Big Hero 6 – Movie Review
Photos courtesy Disney. All Rights Reserved.
Category:
Movies
Big Hero 6 is a fun animated film for the entire family. This is definitely a Disney film that will be adored by boys and girls alike, as well as their parents.
The story follows a young fourteen-year-old prodigy named Hiro. He lives in the city of San Fransokyo with his older brother Tadashi and aunt. Both Hiro and Tadashi are techno-geniuses. While Hiro prefers to spend his time "bot racing" with the amazing robot he built, Tadashi prefers to spend his time at tech school advancing his skills. Tadashi built a remarkable robot named Baymax, who will undoubtedly be a favorite character for all audience members. Everyone will want one of their own. I certainly do. He is "non-threatening" and "huggable."
Baymax is programed to be a medical assistant and help people. Tadashi is a kind soul who only wants to better his fellow man. Once Hiro sees the amazing work being produced by Tadashi and his friends, he decides he too wants to go to the school to be part of it all.
When an accident occurs, Hiro again finds himself in the depths of despair and returns to his old life of unproductiveness. But things change when he and Baymax discover something sinister in the city. Soon Baymax, Hiro, and Tadashi's friends Fred, Honey Lemon, Go Go Tomago, and Wasabi (they got their nicknames at school), transform into a superhero group to get to the bottom of an evil and devious plot and put an end to it.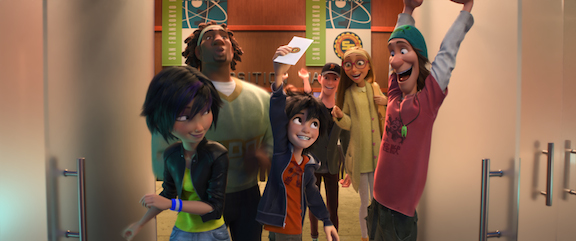 Baymax is a character that, in his innocence, is truly heroic. The close relationship between Baymax and young Hiro is heartening, as is the story itself. With the help of Baymax, Hiro finally has a sense of purpose. The youngster comes out of his shell and learns to be part of the world instead of a bystander, as he had been.
"The only limit is your imagination," says Hiro. He uses his intelligence and tech skills to "upgrade" the group of nerds to create the superhero group of crime fighters.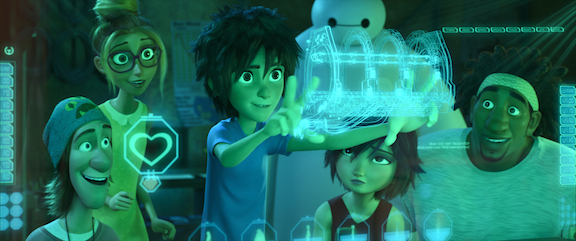 The location of the story is interesting too. It's a combination of San Francisco and Tokyo – obviously. It's more crowded and more modern than San Francisco and has all the lights and design of Tokyo. It's San Fransokyo!
Director Don Hall says about the story, "Baymax's one programmed desire is 'How can I help?' He's filled with compassion. And Hiro is a teenager who has lost his way – their personalities play off each other in a way that is both funny and heartwarming."
Big Hero 6 is a delightful, yet at times very sentimental, film.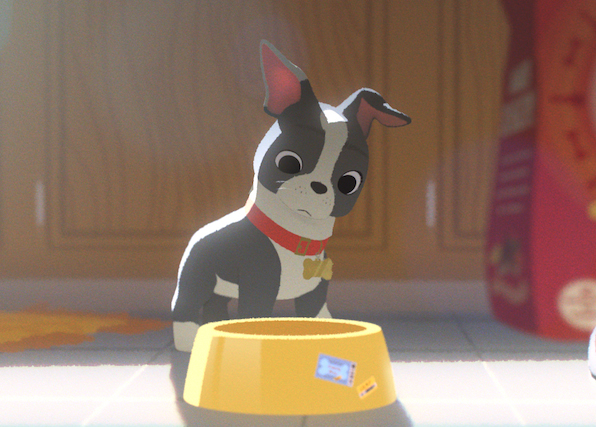 Feast
Before the movie enjoy Disney's newest short, Feast. This is absolutely adorable. It's a cute little story of a sweet dog named Winston and his owner who shares his food with the little fellow. The story continues as their lives progress and the man falls in love with a woman who changes their lives.
Don't be late to Big Hero 6. You'll definitely want to enjoy Feast prior to the main movie.
Big Hero 6 is rated PG for action and peril, some rude humor, and thematic elements.
About the Author
Francine Brokaw has been covering all aspects of the entertainment business for 20 years. She also writes about technology and has been a travel writer for the past 12 years. She has been published in national and international newspapers and magazines as well as internet websites. She has written her own book, Beyond the Red Carpet The World of Entertainment Journalists, from Sourced Media Books.
Follow her on Twitter
Like her on Facebook