Beyond the Red Carpet – Book Review
Category:
Books and Music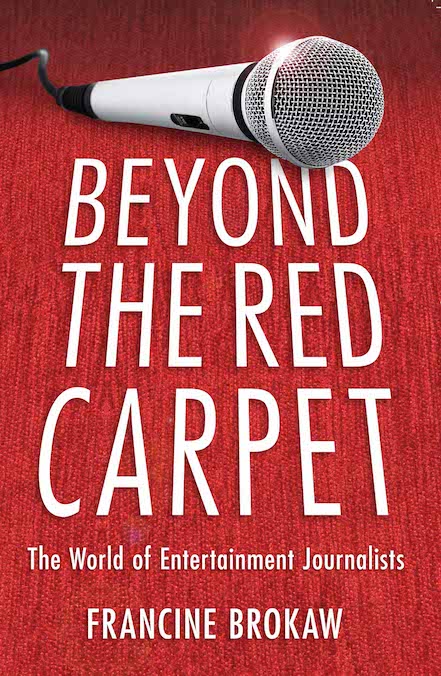 If you're interested in becoming an entertainment journalist, or are simply intrigued by that world, veteran writer Francine Brokaw's new book Beyond the Red Carpet — The World of Entertainment Journalists, will provide you with an insider's view into this fascinating profession.
Francine first wanted to be a political speechwriter, but, living in Los Angeles, she decided to take advantage of her location and immerse herself in the "entertainment capital of the world".
Francine tells us that entertainment journalism "is a competitive business between professionals, between media outlets and between journalists and other (especially online) writers." "The publicists reign supreme. If they don't like you, then you are out! If they want something from you, then you are wooed"
Filled with funny, moving and outrageous anecdotes from Francine herself, as well as 30 of her colleagues across the country, this book will make you laugh-out-loud and keep you reading from cover to cover. She and her colleagues answer questions such as — "What is the strangest interview you ever conducted?" and "Have you ever had to interview someone rude?"
She talks about common misconceptions that people have about entertainment journalists, and asks her fellow journalists their opinion — "that I get paid to watch TV" — Scott Pierce, Salt Lake Tribune, "That it's not work, it's not difficult, and it's nothing but fun and games" — Michael Lee, RadioFree.com. Francine also entertains us with stories of "Twilight Zone" moments, such as an incongruous interview response by Yoko One — "I think it's a slightly racist remark, and maybe sexist too" (read the book to get the background on that one!)
If you want to hear about more strange interviews, hilarious actors, rude encounters, and foot-in-the-mouth moments, don't miss Francine Brokaw's Beyond the Red Carpet — The World of Entertainment Journalists, in stores now.
About the Author
Flora Lazaro
Staff writer, FamilyChoiceAwards.com