Ben Affleck shows us 'The Way Back'
Category:
Blu-ray's and DVD's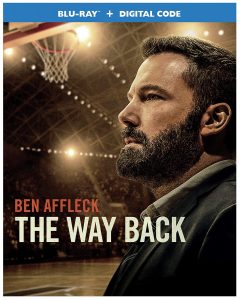 Ben Affleck stars in The Way Back, a dramatic story about survival and overcoming tragedies. This is a film with multiple layers and Affleck's character is a tormented soul.
Jack Cunningham (Affleck) was a star basketball player in his youth but he walked away from a career that could have been. Now, after many years, he is offered the job to coach his old high school basketball team. This is a losing team and the players have problems of their own. Reluctantly he accepts and decides to give the boys his all and turn them around and teach them how to be a united team instead of a group of hot shots.
While he is devoting his time to the young basketball team, his personal life unfolds to viewers. Jack is an alcoholic and tormented by several personal issues. Without any spoil alerts, let's just say he has some major emotional issues that are leading him down the path of booze and possible destruction.
The story is not a basketball story although Jack's devotion to the team is a big part of his life. This is more a story about how Jack finally comes to terms with his past and specifically a tragedy in his life that he simply has a hard time with and that inflames his drinking as a way of avoidance.
This is a film about redemption. Jack Cunningham is a complex character and as the layers unfold, viewers see a man that is shattered internally but finds his way back.
The Blu-ray includes two bonus features. There is one in which Affleck discusses his character and his own alcoholism. He was the best choice for this role because he was able to pull emotions from his own life. There is another special feature with the basketball players and the filmmakers who discuss how the sport is a metaphor for life in the movie. Jack manages to turn the team around and he also turns his life around. The film is layered with the personal growth of the boys on the team and also Jack's road to recovering his own life and taking charge of his personal demons.
The Way Back is also available on a DVD and digital. It is rated R for language throughout including some sexual references. It is not for young kids. This is a film about the dark side of life, wonderfully portrayed by Affleck.
About the Author
Francine Brokaw has been covering all aspects of the entertainment industry for over 25 years. She also writes about products and travel. She has been published in national and international newspapers and magazines as well as Internet websites. She has written her own book, Beyond the Red Carpet The World of Entertainment Journalists, from Sourced Media Books, is the entertainment correspondent for Good Day Orange County, and has her own TV show, Beyond the Red Carpet, on Village Television in Orange County. Follow her on Twitter.