'Bells are Ringing' on Blu-ray
Category:
Blu-ray's and DVD's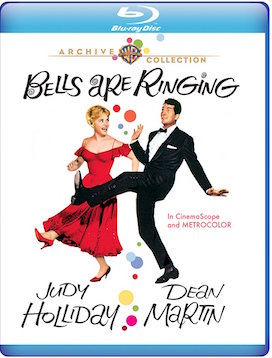 Bells are Ringing is a fun 1960 musical romantic comedy starring Dean Martin and Judy Holliday. The score was nominated for an Academy Award. Martin and Holliday sing a fun duet, "Just in Time," that will leave viewers humming the tune for days.
The story centers on a loveable switchboard operator named Ella (Holliday) who takes a personal interest in the clients. Ella's cousin Sue (Jean Stapleton) owns Susanswerphone, which is a service that provides message taking and wake up calls. Keep in mind this was long before answering machines. As switchboard operators, Ella is supposed to answer calls, take messages, and provide wake-up call service. But she goes far beyond that, to Sue's frustration.
Jeffrey Moss (Martin) is a writer who can't get his mind on his work. He loves women and booze but if he doesn't finish this latest project, his career will be over.
Sue's boyfriend Otto (Eddie Foy Jr.) is an unscrupulous bookie that dupes Sue into letting him run his "music business" out of her office. She thinks they are taking orders for record albums, but in fact they are taking bets on horses.
The fun begins when Ella goes to Jeffrey's apartment to nudge him back to work. He has no idea she is the sweet little old woman from his answering service whom he calls "Mom." Ella proves to be his muse and he gets back to work. Meanwhile, the two fall in love. This is a romantic comedy after all.
Younger generations might not be familiar with Judy Holliday, who was an accomplished actress/comedian/singer. She is fun to watch as the meddling but well-meaning Ella in this, her final film before her death. Martin brings his A-game to this role both singing and acting. And, as most women agree, he's gorgeous.
Ella manages to help several of her clients with one fell-swoop and in the process she saves her cousin's business.
Besides the duet with Martin, Holliday sings "The Party's Over" and some other delightful tunes. This film is an adaptation of the Tony-winning Broadway play in which Holliday originated the role of Ella. After seeing this, it is difficult to think of anyone else in this role. She's perky, adorable, and fun as the meddling Ella who finds the love of her life is on the other end of the phone line.
There is a bonus feature about the making of the film. This was Holliday's final film before her death. Hal Linden costarred in the Broadway version of the film and has a small role in the movie. In a bonus feature he discusses this role and the song he sings, "The Midas Touch."
If you're looking for a cute old-fashioned date-night movie or just one that will leave you smiling, check out Bells are Ringing. It's part of the Warner Archive Collection and can be ordered from their website.
About the Author
Francine Brokaw has been covering all aspects of the entertainment industry for over 20 years. She also writes about products and travel. She has been published in national and international newspapers and magazines as well as Internet websites. She has written her own book, Beyond the Red Carpet The World of Entertainment Journalists, from Sourced Media Books.
Follow her on Twitter