Beethoven's Treasure Tail Blu-ray+DVD+Digital HD
Category:
Blu-ray's and DVD's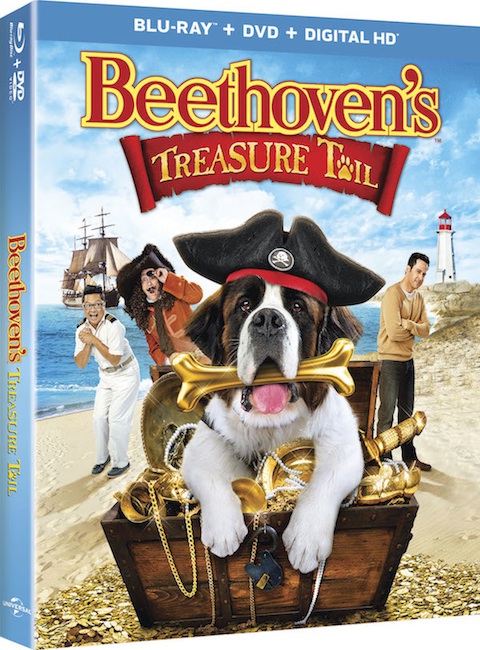 In 1992 an adorable St. Bernard captured the hearts and imaginations of moviegoers in his first film, Beethoven, and he has been the go-to dog for warm and fuzzy films ever since. The following year he starred in Beethoven's 2nd, then in 2000 Beethoven's 3rd, and Beethoven's 4th in 2001. Beethoven's 5th came along in 2003 and in 2008 Beethoven's Big Break was released. It's been awhile, but he's baaack! Yep, that sweet and cuddly dog is starring in his latest film, Beethoven's Treasure Tail.
Jonathan Silverman reprises his role as Eddie, Beethoven's trainer. Beethoven has been a movie star for several years and is currently on location filming his latest hit when things go awry. The precious little fellow has lost his mojo. He's depressed. So Eddie and Beethoven are fired from the set and they find themselves in a rickety old car heading back to Hollywood. When the car breaks down they get stranded in a small coastal village where things get complicated.
O'Malley's Cove has a long history and a very famous legend about a pirate's treasure buried somewhere in the town. The little village is going broke but one boy knows if he can find the treasure he can save his town. Sam (Bretton Manley) is kind of a nerd and completely obsessed with the treasure, to his mother Anne's (Kristy Swanson) frustration. Sam is intent on finding the treasure no matter what.
When Beethoven and Eddie come to town, Sam finds a friend in the furry fellow and Beethoven gets his mojo back. He loves the little boy and together they make a great team.
In the meantime, Eddie has to keep Beethoven hidden from his landlady who happens to be Sam's grandmother. This snooty woman does not allow pets in her B&B, and Eddie and Sam find ways to hide the big fellow. At least for a while. Beethoven has a mind of his own, and, well, things get out of hand and one thing leads to another and the entire town soon learns that you cannot hide a 145-pound St. Bernard.
Then add to all of this mayhem a developer who wants to buy the little village and turn it into a modern town. He would get rid of all the charm and update everything. But what is his real motive?
Beethoven's Treasure Tail is a cute little story with the world's most beloved pooch. Beethoven's expressions are priceless. And even though he often gets flatulent, he endears himself to everyone around him.
Beethoven's Treasure Tail is rated PG for Mild Crude Humor and Peril.
About the Author
Francine Brokaw has been covering all aspects of the entertainment business for 20 years. She also writes about technology and has been a travel writer for the past 12 years. She has been published in national and international newspapers and magazines as well as internet websites. She has written her own book, Beyond the Red Carpet The World of Entertainment Journalists, from Sourced Media Books.
Follow her on Twitter
Like her on Facebook