Bedknobs and Broomsticks Special Edition Combo Pack
Category:
Blu-ray's and DVD's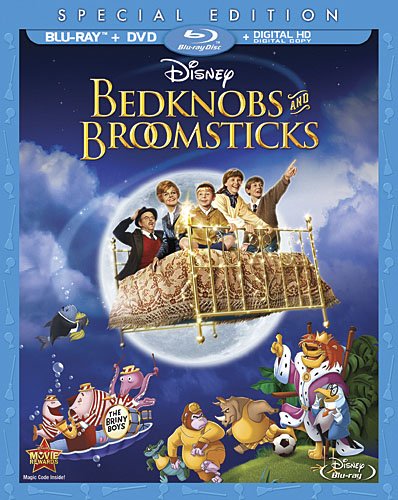 Fantasy, music, spells, and a dash of Disney magic combine in the 1971 film Bedknobs and Broomsticks. Angela Lansbury stars in this classic film that takes a different path than other Disney live action movies. It is set against the backdrop of World War II.
The time is August 1940 and the Nazis are bombing London. Children are being evacuated to the country for safety, and three siblings are assigned Miss Price (Lansbury) as their temporary guardian. She is a single woman living alone in a large house, so obviously she is called upon by the Civil Defense to do her part in the war effort and keep the children fed and housed. Carrie, Paul, and Charlie are good kids, who just happened to be a casualty of the war.
Unbeknownst to anyone, Miss Price is an apprentice witch, taking lessons from the Correspondence College of Witchcraft, under the direction of Emelius Black (David Tomlinson). She is a bumbling witch, to say the lease, however she is getting the hang of the spells and even riding the broomstick.
At first the children, especially Charlie, are not excited about being stuck in this house, until they accidentally discover Miss Price's secret. Then Charlie attempts to blackmail her for better food and less baths in order to keep her secret. But soon the entire group is off on an exciting adventure to help Miss Price find the final part of a special spell that, she hopes, will aid in the war effort, once she learns how to use it.
Miss Price has put a spell on the bedknob so the brass bed turns into a magic transportation system, which takes them to London, then to the magic Isle of Naboombu where they interact with animated animals and have an interesting and unique visit. The first time live action was combined with animation was in the 1944 movie Anchors Aweigh when Gene Kelly danced with Jerry mouse. Then audiences were treated to more combination of humans dancing and interacting with animated characters in the 1964 classic Mary Poppins.
Once they all retrieve the final spell, there is more adventure waiting for them when the Nazi's invade their village. Look for a cute scene where Lansbury dances with a pair of shoes.
The dark undertones of this movie could be disturbing to some viewers, but the fun of the magic saves the story.
Bonus features in this pack include a feature with the famed Sherman Brothers who wrote so many songs for Disney films, including Mary Poppins and Bedknobs and Broomsticks. They describe how this story was originally brought to them by Walt Disney who was in the process of trying to convince P.L. Travers to let him make her Mary Poppins story into a movie. Finally she relented so this film was put on the back burner for a while.
There are plenty of deleted and extended scenes and songs, a recording session with David Tomlinson (who incidentally played the father in Mary Poppins several years earlier), and an interesting feature about special effects. Today effects are done primarily with green screens and computers, but back when they made this film that technology hadn't been invented yet. See how they made this film and how it is different from the moviemaking of today. Bedknobs and Broomsticks won an Academy Award for Best Special Visual Effects.
Bedknobs and Broomsticks Special Edition contains a Blu-ray, a DVD, and Digital HD copy. It's rated G for all audiences.
About the Author
Francine Brokaw has been covering all aspects of the entertainment business for 20 years. She also writes about technology and has been a travel writer for the past 12 years. She has been published in national and international newspapers and magazines as well as internet websites. She has written her own book, Beyond the Red Carpet The World of Entertainment Journalists, from Sourced Media Books.
Follow her on Twitter
Like her on Facebook