Become a Senior Wilderness Explorer at Disney's California Adventure
Category:
Travel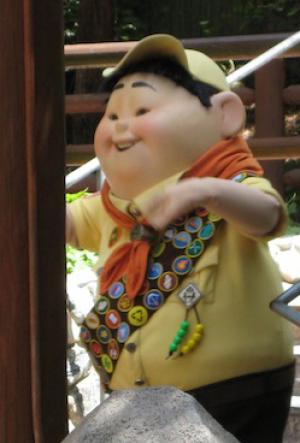 A wilderness explorer is a friend to all, be a plant or fish or tiny mole! That's the motto/pledge of the Wilderness Explorers and the most famous Wilderness Explorer is Russell from Disney/Pixar's Up. Now your kids – and you – can become Senior Wilderness Explorers and take the pledge with Russell at Disney's California Adventure Park in California. The Wilderness Explorer Camp is part of the Redwood Creek Challenge Trail in the park, and Russell is frequently on hand to meet and greet visitors.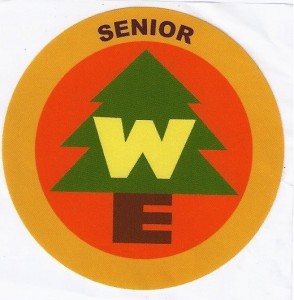 Russell and Dug (the talking dog) often show up in the Wilderness Explorer Camp, and also keep a look out for Kevin too. You might hear her call. Kevin's a girl? Yep. You would know that if you saw the movie!
This is a popular area for kids to meet the Up characters and become Senior Wilderness Explorers like Russell. Before the ceremony, kids can learn a lot about nature in the Redwood Creek Challenge Trail. Keep your eyes open for Kevin's tracks. Grab a map and take the challenge. For every one you complete you get another badge — one badge per station. There is a tracking challenge, a wolf howling challenge, a bravery challenge, and some others. They're fun for the young and the not so young too.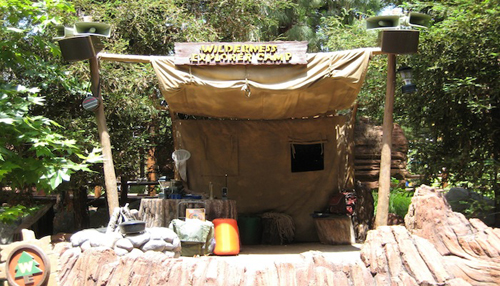 After exploring the wilderness at the Redwood Creek Trail, gather at the Ahwahnee Camp Circle for the Wilderness Explorer Ceremony where Senior Wilderness Explorer badges are presented to those who participate. It's a fun little ceremony and kids – especially the young ones – enjoy it and are delighted to see their favorite little (well, not so little) Wilderness Explorer Russell or Dug who talk to the guests and provide many memorable moments.
Come on. The next time you're at Disney's California Adventure, stop in and meet Russell and/or Dug. And remember – Adventure's out there!
About the Author
Francine Brokaw has been covering all aspects of the entertainment business for 20 years. She also writes about technology and has been a travel writer for the past 12 years. She has been published in national and international newspapers and magazines as well as internet websites. She has written her own book, Beyond the Red Carpet The World of Entertainment Journalists, from Sourced Media Books.
Follow her on Twitter
Like her on Facebook