'Beauty and the Beast' Live Action on Blu-ray
Category:
Blu-ray's and DVD's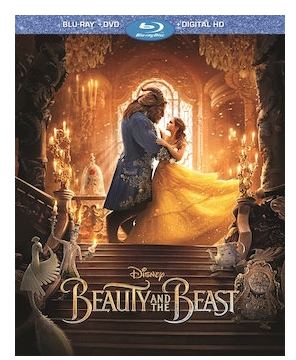 26 years after the animated film became an instant classic, the live action version is an enchanting addition to the Disney portfolio. Beauty and the Beast stars Emma Watson as Belle and Dan Stevens as the Beast.
We all know the story of the enchantress (Hattie Morahan) who transforms a prince into a beast and puts a spell on him and all who work in his castle. The spell can only be broken by love. Could anyone love a beast? Absolutely. Especially when he is a sweet, sensitive man deep within. It is up to Belle to bring out that side of him
There are plenty of bonus features on the Blu-ray, including comments from the cast. Thompson says her character of Mrs. Potts was "a tough act to follow." Angela Lansbury who voiced the loveable teapot in the animated movie originally brought the character to the screen. Even though the original film was followed by a Broadway play, Emma Watson said there was "more to tell," and this movie delves deeper into Belle's past. Watson also says filming the "Be Out Guest" scene as "the most boring" because for days it was only her alone at a table. The other characters were all CGI. Viewers see how this scene came to life.
Celine Dion discusses being part of both films. And there is a feature highlighting the women behind the camera. Following on Belle's strength, the production also relied on women to bring the story to life.
Viewers also see how the set was created on the back lot of the studio in Britain. The only scene shot on location was the forest scene with Gaston (Luke Evans) and LeFou (Josh Gad).
Kevin Kline is Maurice, Belle's father whose actions start the entire process of the relationship between Belle and the Beast. Ewan McGregor (Lumiere), Ian McKellen (Cogsworth), Emma Thompson (Mrs. Potts), and Audra McDonald (Madame Garderobe) are part of this wonderful cast.
A music video with Ariana Grande and John Legend, deleted scenes, and a song selection round out the additional features on this combo pack.
Beauty and the Beast is just as enchanting (no pun intended) in live action as it is in animated form, although the original is still a beloved movie that will continue to be among the top rated films. With memorable characters, a delightful story, and songs that have been beloved by generations, the movie will delight all ages.
About the Author
Francine Brokaw has been covering all aspects of the entertainment industry for over 20 years. She also writes about products and travel. She has been published in national and international newspapers and magazines as well as Internet websites. She has written her own book, Beyond the Red Carpet The World of Entertainment Journalists, from Sourced Media Books.
Follow her on Twitter