'Back in Time' on DVD
Category:
Blu-ray's and DVD's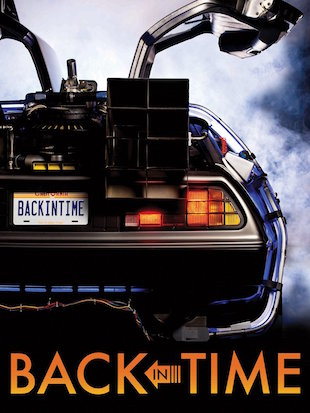 Audiences young and old immediately embraced the 1985 film Back to the Future. Back in Time is a documentary that looks at the history of the film and the mark it made on pop culture. The documentary took two years to film and includes interviews with stars Christopher Lloyd, Lea Thompson, Michael J. Fox, and others as well as executive producer Steven Spielberg and writer/director Robert Zemekis.
This film is packed with information about the story and the movie. How did it start? How did it progress? One of the many tidbits is that the time machine was not originally going to be a car. It was a refrigerator! But the DeLorean car ultimately was chosen and detailed to be the impetus of time travel and the flux capacitor was created. Imagine if they had stayed with the refrigerator. What a difference that would have made in the way we remember the film and the way we automatically relate a DeLorean car to the movie. It is the iconic car of a generation.
Another interesting fact is that Eric Stoltz was originally cast as Marty McFly. The footage filmed with Stoltz is still around yet hasn't been seen by the public…yet. Perhaps they will release the footage at a later date. Michael J. Fox replaced Stoltz and inhabited the character with wit and charm.
Zemekis states Back to the Future is "the best thing I've ever written." And Spielberg says it was "lightening in a bottle." The movie is described as "quirky," "a masterpiece," and a "perfect film."
Huey Lewis discusses writing the song, "Power of Love" for the film and how the two propelled each other to the top. The song hit the charts before the film was released and once the film premiered the song added to the interest in the movie and vice versa.
Time travel has long been a fascination with the public. The 2016 fall TV schedule includes three new shows with time travel at their core. They don't use a DeLorean or a Flux Capacitor, however. These are only integrated in the Back to the Future films, of which there are three. The trilogy was well received by audiences and has become part of Hollywood classic film history.
Fans of the movies pledged over $45,000 on a Kickstarter campaign to make this documentary, which ran in theaters in 2015. Back in Time is now available on DVD and Blu-ray.
About the Author
Francine Brokaw has been covering all aspects of the entertainment industry for 20 years. She also writes about products and travel. She has been published in national and international newspapers and magazines as well as Internet websites. She has written her own book, Beyond the Red Carpet The World of Entertainment Journalists, from Sourced Media Books.
Follow her on Twitter