Baby Rockstar: Lullaby Renditions of Frozen CD
Category:
Books and Music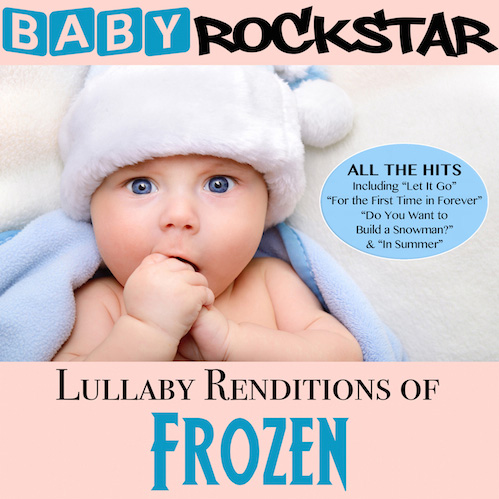 The movie Frozen and the music from the film have taken over the planet. This is a beloved film and the music is award winning. So why should babies miss out on the delightful songs? They don't have to. They can fall asleep listening to soft, calming versions of the songs, thanks to Baby Rockstar.
These lullaby versions are a great way for babies to hear the songs that perhaps their parents and older siblings listen to and sing all day long. Even though the songs in the film are upbeat and want to make listeners dance and sing, the Baby Rockstar songs are peaceful. But the underlying tunes are there. They're just done in a tranquil way for babies.
My favorite on this CD is "In Summer." Older kids will sing the song from the soundtrack and think of Olaf, but babies will hear their own version and drift off to a peaceful sleep.
Baby Rockstar has been creating music for babies translating them from chart topping hits to soft lullabies for little ears. Their lullaby renditions of hit songs have been soothing babies with songs by Katy Perry, Blake Shelton, Coldplay, the Beatles and others. Each song is translated into a soft lullaby that even older kids (and parents) will enjoy at the end of a long day.
The Lullaby Renditions of Frozen CD is especially delightful because the songs are all beloved by fans of the film. The tracks are:
Frozen Heart
Do You Want to Build a Snowman
For the First Time in Forever
Love Is an Open Door
Let It Go
Reindeers Are Better Than People
In Summer
For the First Time in Forever (Reprise)
Fixer Upper
Vuelie
Heimr Arnadalr
If you know someone who is expecting or recently had a baby, this is a wonderful gift. You can get this for the baby and the original soundtrack for the older children. Everyone can enjoy the songs from Elsa, Anna, Kristoff, Olaf, Sven, and the Trolls.
Baby Rockstar: Lullaby Renditions of Frozen lists for $14.99. It's available for a discount here.
About the Author
Francine Brokaw has been covering all aspects of the entertainment business for 20 years. She also writes about technology and has been a travel writer for the past 12 years. She has been published in national and international newspapers and magazines as well as internet websites. She has written her own book, Beyond the Red Carpet The World of Entertainment Journalists, from Sourced Media Books.
Follow her on Twitter
Like her on Facebook