August schedule of 'Kate & Mim-Mim' on Disney Junior
Category:
Sneak Peeks & Trailers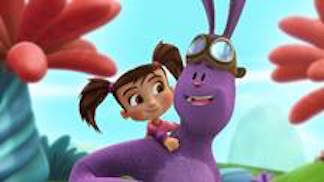 Brand-new episodes of the hit preschool TV series Kate & Mim-Mim premiering all month long on Disney Junior, beginning August 1, 2016. Inspired by a real-life little girl and her toy, the vibrant animated show centers on 5-year-old Kate and her special friendship with her purple toy bunny, Mim-Mim. Thanks to Kate's BIG imagination, the two friends are transported to the fun-filled world of Mimiloo, where her little toy bunny transforms into a larger-than-life playmate, and together they embark on exciting adventures along with their colorful cast of friends.
August schedule:
Mon. 8/1/2016
"Friendship Day" – When Kate has trouble getting her kite to stay in the air, she looks for the answer in Mimiloo, where it's Friendship Day! The gang in Mimiloo wants to deliver gifts to all of their friends, but when their delivery plans fly off course, Kate and one special little lemming help solve the problem. "Octo-Mim" – Kate and Mom have run out of bananas, but in Mimiloo, Gobble has the opposite problem—he has so many banana trees, he can't pick all the bananas with just two arms. Tack offers his Octo-Pack invention to help—but it's too hard to control, and soon bananas are flying everywhere!
Mon. 8/8/2016
"Small Blunders" – Kate wants to build a block house. The only problem is that the directions are missing. Then, in Mimiloo, one of Tack's inventions shrinks the gang down and traps them in Tack's storage shed. The friends need to get back to the treehouse to return to regular size, but the tools they'd normally use are too big for them now! "Lunar or Later" – Kate and her family are on a picnic and looking for a new place to explore. In Mimiloo, Kate's friend Rumbly also wants to explore somewhere new—the moon! So the gang boards their rocket ship and blasts off to the moon, where exciting new discoveries await!
Mon. 8/15/2016
"Sprite Lights" – Kate is making a paper sea monster with Dad, only she doesn't like the scary frown he drew on it. In Mimiloo, Kate and her friends help some lost water sprites return to the Singing Seas. But that means diving deeper than ever before, and legend says a sea monster lives down there! "Wild Boomer" – The power goes out and Kate is afraid of monsters in the dark. In Mimiloo, when Boomer eats a hopper berry that turns him giant, purple and wild, his friends mistake him for a monster and run away! It's up to Kate to help them face their fears and discover the truth.
Mon. 8/29/2016
"Grabby the Crab" – Kate is fish-sitting, but the fish aren't getting along. In Mimiloo, Tack has a new neighbor—Grabby the crab! Tack wants to help Grabby build his house, but Grabby just does everything himself. But when a mishap puts Grabby's house in danger, he and Tack will have to learn to work together! "Secret Superhero" – Tack is feeling down about his little muscles…until he's mistaken for a superhero! Tack takes on the secret identity of Mimiloo Man, with super speed, super strength, and the power to fly! But it's a lonely job, and Kate and her friends miss having Tack around.