Audrey Hepburn Blu-ray Collection
Category:
Blu-ray's and DVD's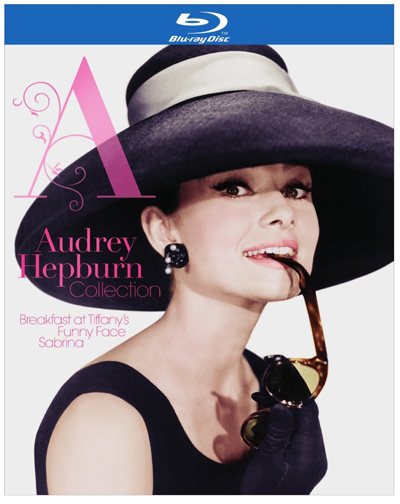 Sabrina, Breakfast at Tiffany's, and Funny Face combine to make the Audrey Hepburn Blu-ray Collection a must-have for fans of classic films and Audrey Hepburn. Along with plenty of bonus features, this new collection has all the charm of the actress herself.
In Sabrina, Hepburn stars alongside Humphrey Bogart and William Holden. How's that for a great cast? The 1954 film is considered a classic and was remade in 1995 with Julia Ormond, Harrison Ford, and Greg Kinnear. As far as remakes go, this is pretty good but it can't compare with the original.
Hepburn stars as a chauffer's daughter in love with the younger brother of the rich Larrabee family for whom her father works. She is obsessed with playboy David (Holden) but ends up with his older and more professional brother Linus (Bogart). This is a charming and fun movie from legendary filmmaker Billy Wilder.
The bonus features include a look at the story, a featurette on William Holden, a featurette on Hepburn's fashion status, a featurette with Hepburn, and plenty more. Sabrina won an Academy Award for Best Costume Design.
In the 1961 movie Breakfast at Tiffany's, Hepburn plays the iconic Holly Golightly, an enchanting young woman looking for a rich man. She ends up with a not-so-rich one, played by George Peppard. Hepburn's fashionable style made Golightly one of the most memorable and referred to when people discuss film characters. She was even given a nod in the 2002 movie Anything but Love. Her iconic black dress with high hairstyle, hat, and sunglasses has been copied many times, but no one could pull it off like Audrey Hepburn.
Breakfast at Tiffany's won two Academy Awards: one for Best Original Song and one for Best Music Score. "Moon River," from Henry Mancini and Johnny Mercer, is probably most associated with Andy Williams, however it was Audrey Hepburn, ala Holly Golightly, who debuted it in this movie.
Bonus features include a "making of" feature, a look at composer Henry Mancini, and many more features about the film.
The final disc in this collection is the 1957 film Funny Face. This musical brought French high fashion and designer Herbert de Givenchy to American theaters. Although Ms. Hepburn wore several Givenchy creations in Sabrina, it was her Paris wardrobe in Funny Face that captured the attention of American women.
Hepburn plays a mild-mannered Greenwich Village bookshop employee who is plucked from the store to become the face of a high-fashion magazine. Legendary entertainer Kay Thompson plays the magazine's editor, and Fred Astaire plays the photographer. This movie is filled with musical numbers and plenty of dancing as well. The highlights of this film are the scenery in Paris and of course, the amazing Givenchy creations. They are just as fabulous today as they were in 1957.
Bonus features include a look at Givenchy and his association with Audrey Hepburn, who thought of him as a brother. Their relationship lasted the rest of their lives. There is another feature about the Paris locations in which the film was shot. And there is a great feature about Kay Thompson who was an important part of the Warner Bros. music department, Andy Williams' and his brothers' careers, and music in general.
There is no doubt the bonus features on these discs are just as interesting and entertaining as the movies. The three-disc collection is packed full of great movie memories, information, and wonderful entertainment. And with the Blu-ray versions, the films look amazing.
About the Author
Francine Brokaw has been covering all aspects of the entertainment business for 20 years. She also writes about technology and has been a travel writer for the past 12 years. She has been published in national and international newspapers and magazines as well as internet websites. She has written her own book, Beyond the Red Carpet The World of Entertainment Journalists, from Sourced Media Books.
Follow her on Twitter
Like her on Facebook