At Middleton on Blu-ray
Category:
Blu-ray's and DVD's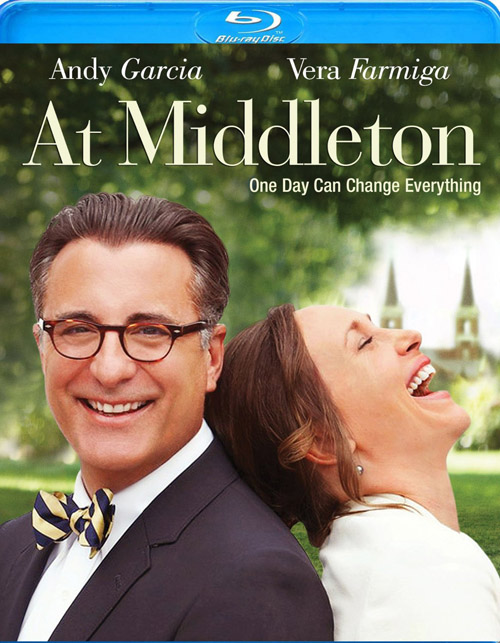 Vera Farmiga and Andy Garcia star in this sensitive yet whimsical story of two people who meet, spend one amazing and memorable day together, then return to their own lives. At Middleton is a sweet movie filled with some great moments, especially from Andy Garcia.
Edith (Farmiga) is accompanying her high-strung daughter Audrey (Taissa Farmiga – Vera's real life younger sister) on a campus tour of Middleton College. And George (Garcia) is a straight-laced cardiac surgeon accompanying his unenthusiastic son Conrad (Spencer Lofranco) on the same tour. While George is excited to have his son look at the school, Edith is apprehensive about her daughter going away to college because that would mean she would be an empty nester and alone with her husband.
This is an interesting romantic comedy. Through the day Edith and George leave the guided tour and spend the entire day together, exploring the college as well as their own lives. They are intriguing characters. This story of self-discovery is sure to delight many viewers.
The tagline is "You never know what you'll discover on your first day at college." How true. George's influence on Edith and hers on him bring out a companionship neither has experienced and one that fulfills them.
Bonus features on this disc include an outtakes reel as well as a sweet music video with Andy Garcia singing the romantic ballad "There Was a Day," a song for which he also wrote the lyrics. The outtakes were not impressive however the song by Garcia is very special and worth listening to and watching. The entire movie is summed up in this sensitive song.
At Middleton is also available on a DVD. It is rated R for drug use and brief sexuality.
About the Author
Francine Brokaw has been covering all aspects of the entertainment business for 20 years. She also writes about technology and has been a travel writer for the past 12 years. She has been published in national and international newspapers and magazines as well as internet websites. She has written her own book, Beyond the Red Carpet The World of Entertainment Journalists, from Sourced Media Books.
Follow her on Twitter
Like her on Facebook