'Aspen Extreme'
Category:
Blu-ray's and DVD's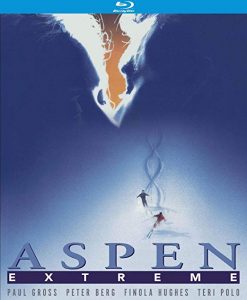 The 1993 film Aspen Extreme is now available on Blu-ray. This is a dramatic story of two best friends who expand their horizons and experience new places, people, and adventures.
T.J. (Paul Gross) works at the Ford motor company building trucks in Detroit. His best friend Dexter (Peter Berg) works at the local ski resort. The two are the best skiers in the area, but when it comes to mountains, nothing beats the Intermountain West and the famous ski resorts in Utah and Colorado. They decide to quit their jobs and head out to Colorado to become skiing instructors. They decide on Aspen. After all, it is the playground of the rich and famous.
After tryouts, they both manage to secure positions as instructors. They meet the local DJ Robin (Teri Polo), a sweet, down-to-earth local. Then they meet Bryce Kellogg (Finola Hughes), a rich socialite who sets her sights on T.J. She lures him into her world and remakes his wardrobe and his style.
Through it all, the best friends stick together, but Bryce's hold on T.J. puts a strain on their relationship. Dexter turns to drugs and soon their friendship is pulled too far.
At the heart of the story is the friendship of T.J. and Dexter who have left their hometown of Detroit and are lured into the extreme life of Aspen society as well as extreme skiing. They don't have mountains like this back in Michigan!
There are plenty of skiing scenes with aerials and definitely a lot of moguls, but the skiing is secondary to the story of the two friends.
Trevor Eve, William Russ, Martin Kemp, and William McNamara costar and real-life ski champion
Andy Mill plays himself as the M.C. of the local races.
Unfortunately there are no bonus features on this disc.
Aspen Extreme is rated PG-13 for some language, drug content, and nudity. It was filmed on location in Aspen and Detroit.
About the Author
Francine Brokaw has been covering all aspects of the entertainment industry for over 25 years. She also writes about products and travel. She has been published in national and international newspapers and magazines as well as Internet websites. She has written her own book, Beyond the Red Carpet The World of Entertainment Journalists, from Sourced Media Books, is the entertainment correspondent for Good Day Orange County, and has her own TV show, Beyond the Red Carpet, on Village Television in Orange County.Follow her on Twitter.