Around the Clubhouse World DVD
Category:
Blu-ray's and DVD's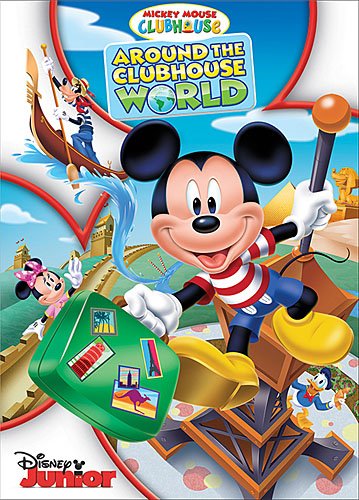 Disney Junior's Mickey Mouse Clubhouse is a popular series for preschoolers. This latest DVD (Around the Clubhouse World) includes five fun-filled episodes.
In the title episode on this DVD, "Around the Clubhouse World," Mickey, Minnie, and Pluto set out to travel to the Mickey Mouse Clubhouse versions of France, Italy, Egypt, and China. "You'll see what a wonderful world it can be."
The trio takes a baguette, a fortune cookie, tickets and the special mousketool to help them solve problems along the way. In the various "countries" they meet up with some of their friends who, in typical Mickey Mouse Clubhouse tradition, need a little help solving some dilemmas. Viewers – and the gang – must figure out which tool to use to help them along the way.
Included in the box is an "Official Clubhouse Passport" so kids can have their own passport and can get them stamped along with Mickey and Minnie. With stickers to place where the official stamps belong, as well as a few additional features, this personal passport is something that adds a fun element to the story. Parents can help their kids place the stamps in the correct locations on the passport while they are enjoying the trip around the clubhouse world.
Four additional episodes on the disc add more Clubhouse fun. There is "Donald and the Beanstalk," "Goofy on Mars," "Mickey's Handy Helpers," and "Pluto's Dinosaur Romp."
When the Magic Helpers get stuck, Goofy, Daisy, Donald, Minnie, and Mickey must figure out why they are not working and correct the problem – so Goofy can have his veggie stew! The Magic Helpers are responsible for making the meals, and Goofy really wants his veggie stew.
A fun little character named Dinah appears in the episode "Pluto's Dinosaur Romp" when Professor Von Drake's Tick Tock Time Machine accidentally brings the baby dinosaur to the clubhouse. The gang must figure out how to get her back to her own time so she can be with her friends and family.
The TV series is filled with fun for young viewers, and this DVD brings together five adorable episodes, along with an Official Clubhouse Passport. With the classic characters, engaging stories for preschoolers, the Handy Helpers, the Surprise Switch, the special tools, and all the great things in the clubhouse, this is a disc that will delight and entertain youngsters. So, say the magic words, Meeska Mooska Mickey Mouse, and open a magical world for your preschooler.
About the Author
Francine Brokaw has been covering all aspects of the entertainment business for 20 years. She also writes about technology and has been a travel writer for the past 12 years. She has been published in national and international newspapers and magazines as well as internet websites. She has written her own book, Beyond the Red Carpet The World of Entertainment Journalists, from Sourced Media Books.
Follow her on Twitter
Like her on Facebook