'Arlo the Burping Pig' on DVD
Category:
Blu-ray's and DVD's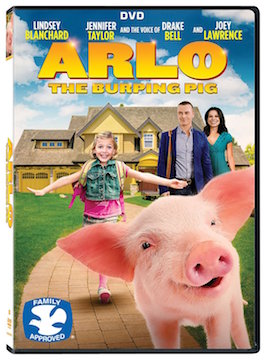 If your kids love pigs, Arlo the Burping Pig is a fun film for them. It's the story of a family who moves to a new town and finds they are caught up in two strange cases: a missing Ming vase and a missing circus pig.
The Rose family is new in town. Upon arriving, David (Joey Lawrence) has to abandon his wife (Jennifer Taylor), and his three daughters for two weeks to close his business back in Boston. The girls are a bit disturbed in their new surroundings, especially the youngest, Talia (Lindsey Blanchard) who feels lonely. Then she discovers a pig in their backyard. Yes, a pig. Talia immediately falls in love with this cute little pink piggy that happens to have a burping problem. She hides him in her room and names him Arlo.
In the meantime, a thief has stolen a valuable Ming vase from City Hall. He hides it in the Rose's yard thinking he'll come back and retrieve it. The joke is on him. They discover the vase and, not knowing its value or that it has been stolen, take it into their home.
So, while Talia is trying to keep her new friend Arlo safe and hidden from the rest of her family, the thief is trying to find a way into the Rose's house to get the vase. This leads to plenty of hijinks.
This is definitely a film for youngsters and pig fans. The best part of the movie is little Arlo. The question is whether Talia can convince her family to let her keep him.
Everything comes to a head when the thief comes to claim his vase. It's up to Arlo to save the day. Oink, oink. Or I should say, "burp, burp."
This little pig (voiced by Drake Bell) is absolutely adorable.
One word of advice for parents after their kids see the movie and ask for a teacup pig of their own: don't buy one. Pigs do not stay small forever. Yes, they are adorable but they require maintenance like any other pet. Once in awhile a pig will remain somewhat small, but on the whole they grow into big pigs. While Arlo is sweet and absolutely adorable, he won't stay like that forever.
Arlo the Burping Pig is rated G for the whole family.
About the Author
Francine Brokaw has been covering all aspects of the entertainment industry for over 20 years. She also writes about products and travel. She has been published in national and international newspapers and magazines as well as Internet websites. She has written her own book, Beyond the Red Carpet The World of Entertainment Journalists, from Sourced Media Books.
Follow her on Twitter