Ariel's Adventure Continues with a 2 Movie Collection
Category:
Blu-ray's and DVD's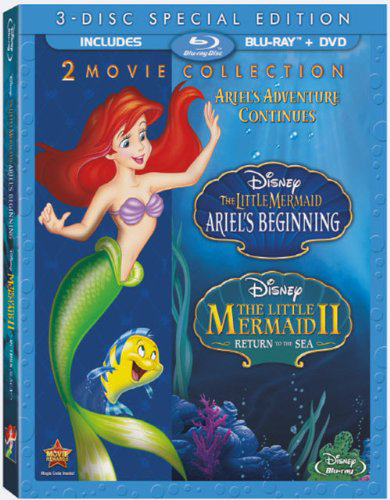 This new 3-disc Special Edition contains both 2 DVDs and a Blu-ray discs of The Little Mermaid: Ariel's Beginning and The Little Mermaid II: Return to the Sea. These two movies basically bookend the original film The Little Mermaid.
The Little Mermaid: Ariel's Beginning
Have you ever wondered what happened to Ariel's mother, how she met Flounder, and why Sebastian looks after her? These questions are answered in the film The Little Mermaid: Ariel's Beginning.
After a tragedy took his wife, King Triton was so heartbroken that he banned all music from his kingdom. His seven little daughters grew up not knowing about their mother and not understanding why their father was so sad. With Sebastian helping the king, the princesses grew up basically unhappy and having very little closeness with the king. It took one little fish (Flounder) and one brave crab (Sebastian), combined with a rebellious young mermaid (Ariel) to set things right not only with her own family, but also with the entire kingdom.
The Little Mermaid II: Return to the Sea
Ariel and Eric are happily married with a new baby daughter. Little Melody is adorable and the pride of her parents and her grandfather. But Ursula's sister Morgana threatens the baby, so Ariel decides to keep Melody's family ties to the sea hidden from the girl. She thinks that if Melody is not allowed to go into the water, she will be safe. But Melody has other ideas.
Like her mother, Melody is rebellious. Ariel loved to see what was going on above the water and Melody loves to see what's happening below. Ariel collected things from humans and Melody collects things from the sea. She is "a child born to sea and shore," and this stirs controversy within the little girl. On her twelfth birthday, Melody, who has secretly been spending time in the water under the supervision of Sebastian and Scuttle, decides she has had enough of the secrecy. She knows there is more to her life than what her mother had told her.
Melody finds herself under the spell of Morgana who grants her wish of becoming a mermaid. But in order to stay a mermaid she must bring the King Triton's trident to the evil Morgana.
Bonus features include a deleted song, a DVD storybook, and an adorable animated classic short, "Merbabies" which fits perfectly with the theme of these films. It's a cute little short about Merbabies creating their own underwater circus.
Ariel's Adventure Continues
These two films are beautifully created and encompass the same feelings as the original film that started it all. Viewers might want to watch Ariel's Beginning, then grab their copy of The Little Mermaid, and then return to this set for The Little Mermaid II as that is the order in which the timeline play out. But it isn't a necessity. Each of these films stands on its own with the beloved characters that have become part of our world.
This Special Edition is rated G for all ages.
About the Author
Francine Brokaw has been covering all aspects of the entertainment business for 20 years. She also writes about technology and has been a travel writer for the past 12 years. She has been published in national and international newspapers and magazines as well as Internet websites. She has written her own book, Beyond the Red Carpet: The World of Entertainment Journalists, from Sourced Media Books.
Follow her on Twitter
Like her on Facebook