'Anything for Love' Premiers February 14 on Hallmark
Category:
Television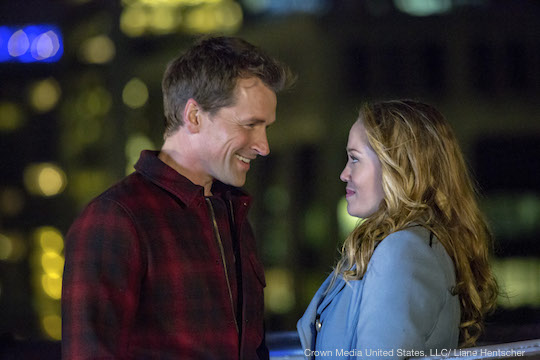 Hallmark Channel's Countdown to Valentine's Day caps off with a romantic original movie starring Erika Christensen and Paul Greene. Anything for Love is filled with emotions and fun and is a pleasing way to end the countdown. Valentine's Day is a day to celebrate love and this movie does exactly that.
Katherine (Christensen) is a high-powered executive running a real estate development company. Her father who still has some part in it built the company, however Katherine is really at the helm. She has no time for men. Her life is her job, which she really enjoys. She loves the thrill of putting together deals and seeing them through.
Jack (Greene) is a male nurse who also enjoys his job even though some patients cringe at the fact he is a nurse. In today's world it's hard to imagine people with these outdated ideas, but hey, that's the premise of the film.
Katherine never dates except the one man her father thinks would be a good match for her. The thing is, she doesn't love him. And Jack discovers women are turned off by the fact he is a nurse and not a doctor. Katherine wants someone to love her who isn't aware of her high financial standing and Jack wants someone to love him for himself and not the fact he has no desire to become a doctor.
Enter the Internet. Katherine's executive assistant Debbie (Ali Liebert) puts together a profile for her boss on a dating website. Katherine doesn't want anyone to find out who she is until she gets to know them, so they enter Debbie's name and occupation. And Jack is putting in his own profile on the same website however his friend changes his occupation from nurse to doctor without Jack's knowledge.
The two are instantly attracted to each other, but as they get better acquainted and begin to fall in love, they wrestle with their own consciences. When is the right time to tell the truth about who they are? They try to come clean several times, but it's too difficult. The feelings they have for each other are strong and keep both of them from divulging their secrets.
As we all know, secrets have a way of coming out and when Katherine's father ends up in the hospital where Jack works, well, you can guess what happens.
Okay, so the ending is predictable. But it's Valentine's Day and this is exactly the kind of movie we love from Hallmark Channel. It has fun, whimsy, characters we can empathize with, and yes, an adorable leading man.
Christensen is delightful as the executive juggling her job with her second life with Jack as her own executive assistant. And Greene is wonderful as the nurse who really likes taking care of his patients.
Anything for Love concludes the Valentine's Day marathon on Hallmark Channel. Start your day with Appetite for Love, then stay tuned for Valentine Ever After, followed by All Things Valentine, then Dater's Handbook. Finally enjoy the world premier of Anything for Love.
About the Author
Francine Brokaw has been covering all aspects of the entertainment industry for 20 years. She also writes about products and travel. She has been published in national and international newspapers and magazines as well as Internet websites. She has written her own book, Beyond the Red Carpet The World of Entertainment Journalists, from Sourced Media Books.
Follow her on Twitter