Antonio Banderas Talks about 'The 33'
Category:
Movies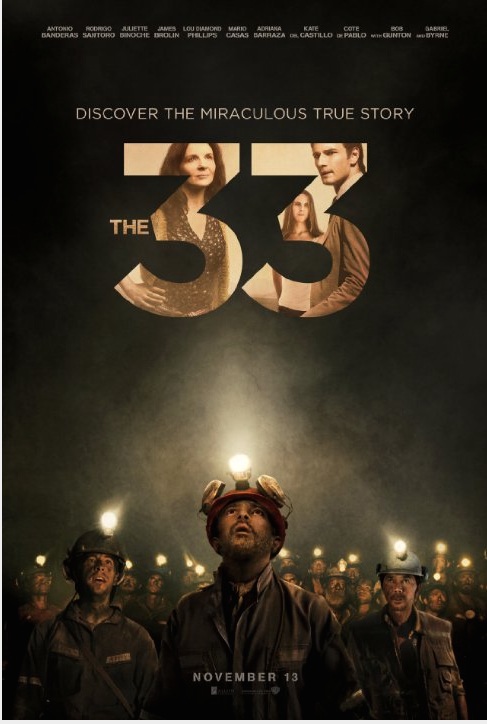 "We are all alive," read the crumbled note. A media audience of roughly one billion people let out a collective sigh. That fateful moment dates back to 2010 in the aftermath of a gold-copper mine collapse in San Jose, Chile. Two tense-filled months would pass before the 33 entrapped miners finally emerge from an area dubbed "the Refuge," located far within the bowels of the earth.
Recounting those riveting, tension filled days, director Patricia Riggen's movie, The 33, focuses not only on the men, but also their families, the rescuers, and the Chilean politicians, who risked their careers to facilitate the rescue.
Antonio Banderas was tapped to portray the miners' indefatigable leader Mario Sepulveda. It turned out to be a lesson in both humility and affirmation regarding the importance of treasuring the simple, immaterial pleasures of life such as love and family.
Still looking slightly gaunt from the restrictive 1,000 calorie a day he sustained during the film, Banderas remarked, "Something as simple as an empanada becomes unbelievably important and reminds us, outside of the mine, that we are involved in this crazy world where if you don't have a certain brand of car that you're not going to be happy."
"When I saw the finished movie for the first time what popped out at me very clearly was how symbolic everything becomes, because you have this masculine, testosterone, dark side of the movie down there in the cave. Then you have this beautiful, light, sunny female world outside. Both of them were fighting to find each other again. I don't think the miners realized how hard the women kept fighting for their men until they saw the movie at the world premiere. There were a lot of tears shed that night."
It was a difficult shot, according to Riggin, with the natural settings providing the backdrop. She injected, "We walked into the mine 35 times, 14 hours a day, six days a week with all these men – 33 hard hats, boots, and working under very dangerous conditions – no food, bad air, no bathrooms. It is the real thing."
Banderas quickly interjected, "For me the most physically demanding part were the mines, themselves. They were very toxic with a lot of methane gas. Breathing it leaves you with this metallic taste in your mouth for days. We were also operating heavy trucks that produced a lot of carbon monoxide. So we were breathing that the entire day, while rocks were falling down on the top of our heads."
Staying at a small motel, only two miles from the original mine collapse, presented its own set of challenges. Banderas amusingly recalled, "It sounded like a horror movie every morning around 5:30 a.m. We would fight over the shower to get a dribble of hot water. Being decent people we used the soap the miners said was the best to take all the dirt from our bodies.
"You know the Holy Shroud? That's what our beds looked like in the morning. Two months after the movie wrapped I was still getting dirt out of my ears."
One of the primarily goals for the 55-year-old actor was to play Mario, who fellow miners referred to as "Super Mario," as "a survivor from the very earliest stages of his life. His mother died delivering him and he lived with a sense of loss his whole life."
Banderas laughingly concedes, "I think I have a little of Mario's personality in a way, because I am a little out of my mind like him. I like to explore new things and adventure is a word that defines my life and I'm going to continue to do that until the day I die."
A native of Malaga, Spain, Banderas first aspired to become a professional soccer until a broken foot permanently sidelined that choice. Turning to acting, his experience at the ARA Theatre-School and the College of Dramatic Art, along with street performances, eventually landed him a spot with the Spanish National Theatre.
Earning the attention of Spanish director Pedro Almodovar, he made his 1982 screen debut in Labyrinth of Passion. Their working relationship would continue throughout the 1980's with titles such as Matador, Women on the Verge of a Nervous Breakdown, and the controversial Tie Me Up! Tie Me Down that sparked the attention of Hollywood.
What followed was a string of hits such as The Mambo Kings, Philadelphia, Desperado, Evita, and The Mask of Zorro.
In 2003, he took a detour to Broadway, starring in Maury Yeston's musical Nine which earned him Outer Critics Circle and Drama Desk awards, along with a Tony Award nomination. A family favorite for kids of all ages, Banderas lent his voice to Puss in Boots in the Shrek franchise.
Next up, he'll step into the shoes of hard-drinking, romantic Cuban Police Detective Mario Conde. Starz television network is developing the series titled Havana Quartet, based on four books by acclaimed Cuban novelist Leonardo Padura.
What has happened to those 33 survivors? Riggin provided an update, "I think this group of men are still really hurt. The wound is open and very raw. Some of them are old and kinda retired, but they do need the money still. Some of the younger healthier ones are in the mine out of necessity, but they can't work under ground. They work in open mines.
"And others would love to go back to the mines, but no one will hire them, because they are famous. Famous miners are not good to have, because if your mine collapses the New York Times finds out. So they really are struggling trying to find jobs."
Painfully conscious of the miners' plight, Riggin and the film's producers made provisions for their financial well-being. She pointed out, "In the past there have been other books and projects, but they've never been part of it. This is a very different case. From the beginning the producers signed an agreement giving them rights and making them partners throughout the whole process. Many were even hired in different capacities to work on the film."
The 33 opens November 13, 2015. It's rated PG-13 for a disaster sequence and some language.
About the Author
Winnie Bonelli is a former entertainment editor for a daily metropolitan New York City area newspaper. She is passionate about movies and television and loves to take readers behind the scenes.