Anthony Mackie Covers the Big Screen
Category:
Movies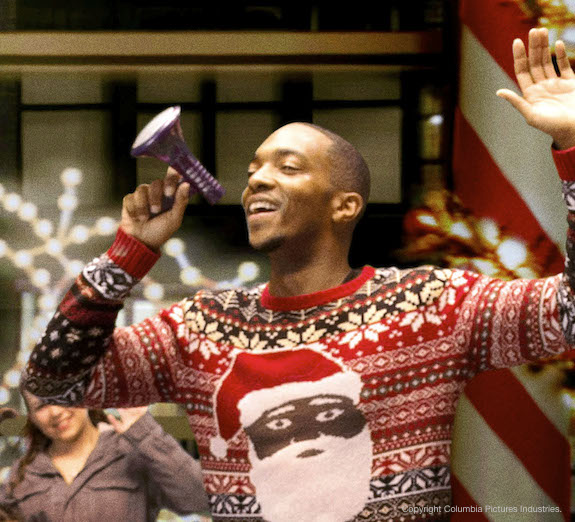 It's not an illusion, actor Anthony Mackie has taken over neighborhood cineplax screens. Currently seen as a campaign strategist and Sandra Bullock's sidekick in Our Brand is Crises, he returns this Friday in two distinctly different takes on life in New York City.
For starters, Jonathan Levine's The Night Before ushers in the holiday season with a nontraditional tale of three dudes – Ethan (Joseph Gordon-Levitt), a musician, whose career has failed to launch; Isaac (Seth Rogan),who is suffering from a case of pending fatherhood jitters, rounded out by Chris (Mackie), a pro football player, whose gridiron fame might be attributed to the use of steroids.
Every year the guys gather to commemorate the tragic, sudden deaths of Ethan's parents a decade earlier, but it looks like this tradition may quickly be coming to an end. Upping the ante one last time, the buddies nail three tickets to the Nutcrackar Ball, the Big Apple's legendary and most elusive party. There's just one small hitch, the invitations don't include an address.
In pursuit of that location, their drug-fueled night of debauchery and revelry takes detours to the Rockefeller Center tree, a karaoke bar where they take a stab at Run-DMC's "Christmas in Hollis," and Tompkins Square Park, complete with a stray reindeer running amok. Nothing is off limits, not even midnight mass.
Don't be mislead, The Night Before promises and delivers a marathon of laughs, but discreetly tucked between the layers is an unmistakable sweetness and vulnerability. By the time the final credits role, three great friends have morphed into three wise men.
Mackie was so sold on the project he did something he hadn't done in 10 years – he auditioned for the role. "It was a little weird having to memorize the lines for the audition. And usually, actors tend to stay away from the star. Instead I messed with Seth. I was going to blow it out and make it my own. They'd (the director and casting crew) keep laughing and I'd be thinking, 'Yo, shut up. The cameras are still rolling and I'm still in the middle of my audition.' I didn't know if it went well or not until I got the part," noted the highly animated 37 year old actor, who in real life is a devote football fan, pledging allegiance to his hometown team – the New Orleans Saints.
His second feature film sharing the same release date is writer/director Paul Bettany's Shelter. A piercing indictment on society's ineffective handling of homelessness, the storyline is propelled forward by two unlikely lovers – Tahir (Mackie), a Nigerian immigrant racked with guilt over the atrocities he committed as a member of the Islamic militant group Boko Haram, and Hannah (played by Bettany's wife Jennifer Connelly), a heroin addict, who's been reduced to trading sexual favors for refuge in a small boiler room during a blizzard. Despite the dire circumstances, a romance blossoms, secrets are shared, and in the act of forgiveness they each find their redemption.
Totally different in both size and scope from such recent blockbusters like Captain America: The Winter Soldier, where he appeared as Sam Wilson/Falcon, and subsequent follow-up Avengers: Age of Ultron, Mackie seemed predestined to play Tahir
The graduate of Juillard's School of Drama recalled, "A few years back, I was feed up and frustrated with the business. I went to Los Angeles to visit a friend. It was the first time I saw LA's Skid Row and my reaction was, 'My God, what is this?' I saw so many veterans living there. I read up on it and called my reps to say I wanted to do something, maybe a short character study. A few months later the script for Shelter comes across, like it was fate. I just thought it was ironic and funny and made me want to create something."
Having done so many big budget, special effects, and blue screen movies in the past, Mackie welcomed the challenge of creating an intimate, basically two-character study. He laughingly conceded, "Let's put it this way there were no craft services to keep me happy when I wanted some cookies. This is like doing theater, you just have to hit the road running. I did a few movies like this, successful movies like my first 20-25 day shoot."
Specifically, he was referring to Brother to Brother where he played a homeless shelter employee struggling with his cultural and sexual identity. Along with his Independent Spirit Award nomination, the film copped the 2004 Special Dramatic Jury Prize at Sundance Film Festival.
Musically inclined, his first big break came while portraying ill-fated rapper Tupac Shakur in the off-Broadway staging of Up Against the Wind. He'd eventually move uptown to the Great White Way in Ma Rainey's Black Bottom headed by Whoopi Goldberg.
Numbered among his movie credits are We Are Marshalls, The Hurt Locker, and Million Dollar Baby, coupled with biopics on Olympian Jesse Owens, Antebellum slave revolt leader Nat Turner, and jazz musician Buddy Bolden. Augmenting that roster is the upcoming HBO movie All the Way, casting Mackie as Martin Luther King Jr. to Bryan Cranston's turn as Lyndon B. Johnson, which focuses on the passage of the Civil Rights Act.
Already shaping up as another busy year, 2016 will mark the release of Triple 9, about a gang of criminals and corrupt cops, who mastermind the killing of a police officer in order to pull off a major heist. And there's another foray as Falcon in Captain America: Civil War.
Recently becoming a father for the third time Mackie warns, "It's going to take something important to take me away from my family."
About the Author
Winnie Bonelli is a former entertainment editor for a daily metropolitan New York City area newspaper. She is passionate about movies and television and loves to take readers behind the scenes.