Andy Samberg and his Lonely Planet buddies talk 'Popstar: Never Stop Never Stopping'
Category:
Movies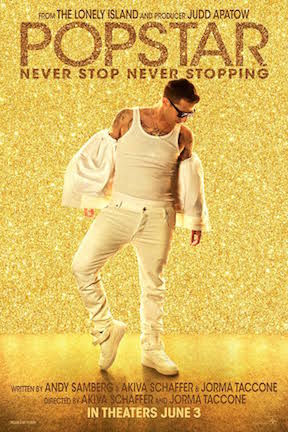 Popstar: Never Stop Never Stopping is one of a handful of films where the actors seem to be having as much fun as the audience members. Structured as a "mockumentary" in the same vein as This is Spinal Tap, Popstar packs enough laughter into its abbreviated 86 minutes running time that it almost guarantees big sales for the future DVD which will contain almost one-and-one-half hour more of outtakes and behind the scenes footage.
Popstar is the collaborative effort of The Lonely Island, a comedy trio formed between Andy Samberg, Jorma Taccone and Akiva Schaffer back in 2001. An Internet staple, they're already well known for a catalogue of digital shorts, including Dick in a Box and I Just Had Sex.
In Popstar, Samberg takes center stage as the egotistical rapper Conner4Real. A veteran of the boys' band, Style Boys, Conner strikes out on his own, the operative phase being "strikes out." His solo album tanks, and the accompanying tour isn't much better after an embarrassing wardrobe malfunction lands him on the front page of USA Today.
It seems Conner can't get a break. Even his carefully orchestrated marriage proposal to publicity obsessed Ashley goes terribly astray as a pack of runaway wolves sink their teeth into the singer Seal. Seal isn't the only celebrity to risk life and limb for the star packed lineup of cameos also includes Justin Timberlake, Mariah Carey, Nas, Adam Levine, along with a few unexpected surprises.
How did Samberg, and his Lonely Island manage to assemble such a star-studded cast? At a press conference with his partners – Taccone and Schaffer, Samberg replied, "All kinds of ways. Some of them were people we worked with before, so we would just call them, or Email them. Some we did through reps, some people like Ringo Starr. Judd Apatow (the film's producer) was the one who called."
"We don't have Ringo on speed dial, but yeah, we just sort of cast a really wide net and had a huge list of people we would love to be part of it, and we were actually really fortunate, a lot of them said 'yes.' Clearly, a ton of people."
Another key component of Popstar is the music. What came first the songs or the storyline? Samberg, who cited the Beastie Boys and Run DMC as his personal early influences admitted it worked both ways. He elaborated, "We are a lot like real rappers, even though none of us can sing and we're fake rappers. We get sent a ton of really awesome beats from various producers, and we'll lock ourselves in the studio and listen to a ton of beats.
"Oftentimes, the beat itself will spark an idea, and we'll start writing to it, or we'll just love the beat, star it, and make sure to come back to it and try to think of an idea of it. Other times, we'll have an idea for a song and we'll know it has to be a certain kind of beat and we'll straight up ask a producer to craft a beat from scratch to make that idea."
What was the creative team's personal favorite song in the movie? Both Samberg and Schaffer immediately replied that they were both partial to The Finest Girl AKA Bin Laden that was adapted for a Saturday Night Live skit.
Looking at today's changing music industry, Samberg commented, "The thing that I think was at the forefront of what we felt was how much social media and the number of outlets that exist nowadays has changed the landscape of the music industry. That pertains to what is expected of an artist, and what they give up of their own personal life. The sort of relationship that musicians in the pop world have with their fans now, and how genuine this is for the sake of their careers, and how it affects their actual friendships and relationships in their lives."
Justin Bieber immediately comes to mind as someone that Conner strives to emulate. The movie extends a degree of empathy towards him, while in the same breath Bieber also serves as a target for their verbal barbs. In response Samberg noted, "We definitely empathize with Justin, and are friendly with him. We've worked with him a few times and think he's a good guy. We respect his music a lot, actually.
"There's a couple direct references, obviously, to his documentary, because we just felt like they were funny jumping off points for a crazier joke. The title of this movie kind of feels like his title, which makes it seem like it's a lot more about him, than we intended. We hope he likes it. We feel like the character of Conner is really an amalgam of everything that's going on in the world of pop music and rap music for that matter," he concluded.
Popstar: Never Stop Never Stopping is rated R for some graphic nudity, language throughout, sexual content and drug use. It opens in theaters June 3, 2016.
About the Author
Winnie Bonelli is a former entertainment editor for a daily metropolitan New York City area newspaper. She is passionate about movies and television and loves to take readers behind the scenes.