'Anastasia' on Blu-ray
Category:
Blu-ray's and DVD's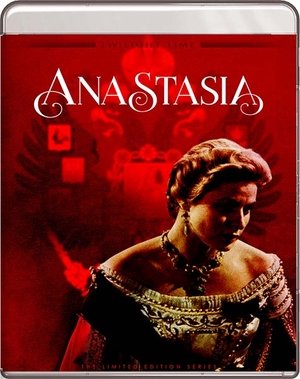 Ingrid Bergman won the Oscar for Best Actress in a Leading Role for her performance in the 1956 movie Anastasia. The story takes place ten years after the Russian revolution when the Tsar and his family were all shot to death. But rumors persisted that one of his daughters, Anastasia, survived and escaped.
General Bounine (Yul Brynner) and his friends have been looking for a woman who could pass for the Princess Anastasia. They find Anna Koreff, aka Anna Anderson (Bergman) who has had some difficult times lately and at times has told people she is the missing princess.
They enlist her to be passed off as Anastasia, leading to a large financial compensation from the Dowager Empress Maria Feodorovna (Helen Hayes), Anastasia's grandmother, if she acknowledges that Anna is indeed her granddaughter Anastasia. Anna is trained in how to behave as a princess and given lessons about the history of Anastasia. Anna is convinced she is Anastasia. But convincing her grandmother is another story.
Helen Hayes is just as enchanting in her role as is Bergman. She is the woman who desperately wants Anna to be her granddaughter. After meeting so many imposters, she feels this is really Anastasia. But she also tells her that if she is not, then she doesn't want to know. Bringing Anastasia back is new hope for all the exiles and those loyal to the Tsar.
So, is Anna really Anastasia? She is so convincing. The relationship between Anna and the general is the culmination of her life as Anastasia.
The movie was filmed on location in France, Denmark, and England. It is based on the story of Anna Anderson who tried to pass herself off as Anastasia. As we know today, she was not the missing princess. DNA has proven that this woman was not Anastasia and the bodies of all the Romanovs were eventually found in Russia.
Alfred Newman was nominated for an Academy Award for the mesmerizing score.
Bonus features on the Twilight Time Blu-ray include the theme song sung by Pat Boone, which charted at #37 in 1957, the same year he had the #1 song from the movie April Love. There are also Movietone newsreels about the fame of the film and the awards won by the cast. This was the same year Yul Brynner starred as the King in the musical The King and I, a movie for which he took home the Oscar.
Anastasia is not rated. It is appropriate for ages 13 and up.
About the Author
Francine Brokaw has been covering all aspects of the entertainment industry for 20 years. She also writes about products and travel. She has been published in national and international newspapers and magazines as well as Internet websites. She has written her own book, Beyond the Red Carpet The World of Entertainment Journalists, from Sourced Media Books.
Follow her on Twitter