'American Girl: Lea to the Rescue' on Combo Pack and DVD
Category:
Blu-ray's and DVD's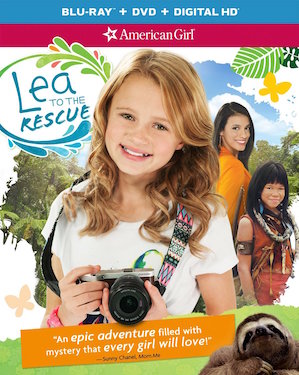 Maggie Elizabeth Jones stars in the new American Girl movie, American Girl: Lea to the Rescue. Jones plays Lea Clark, a feisty, strong-minded ten year-old with a great imagination and a penchant for adventure.
Lea adores her older brother Zac (Connor Dowds) and is jealous of his new girlfriend Paula (Laysla De Oliveira). They both work in Brazil. When Zac confides in Lea that he is hot on the trail of poachers, she is excited. But when he goes missing, Lea and her mother (Hallie Todd), head down to Brazil to find him.
While her mother is waiting for her husband to meet them in Brazil, she is working with the police. Lea feels helpless just sitting in the apartment so she enlists Paula to help track down Zac. She uses his notebook to search for clues and when they lead her to the Amazon, she runs into the Rainforest with Paula on her trail.
The two discover a young Amazon girl, Aki (Storm Reid), who takes them to her tribe. It's there where Lea learns that her grandmother had once saved the tribe. All the stories she had heard about her grandmother were true after all. The tribe agrees to help her find her brother.
Eventually, the clues lead them back to town where the poachers are holding Zac. Lea and Paula put their lives on the line to save Zac.
This little girl barely thinks twice about the danger she faces while searching for her brother. She is brave and spunky. And the story is about girl power.
Bonus features on the DVD include a look at how they filmed the movie. Also, Jones talks about how excited she is being an American Girl. Another bonus shows the animatronics of the adorable little sloth in the film.
The costume designer discusses the look of Lea. In the film she dresses like an American Girl doll and her clothes are duplicates of the American Girl clothes. They can be purchased for the doll and matching outfits for girls from the American Girl website or store.
American Girl: Lea to the Rescue is a great movie for girls. Lea (and Jones) show just how much girls can do. Jones performed the stunts herself, showing her tenacity and girl power of both her character and herself. Maggie Elizabeth Jones is adorable and talented – two traits that will definitely take her far in the business. She is a fun little actress to watch and her future looks bright.
About the Author
Francine Brokaw has been covering all aspects of the entertainment industry for 20 years. She also writes about products and travel. She has been published in national and international newspapers and magazines as well as Internet websites. She has written her own book, Beyond the Red Carpet The World of Entertainment Journalists, from Sourced Media Books.
Follow her on Twitter