'American Dresser' on Blu-ray Combo Pack
Category:
Blu-ray's and DVD's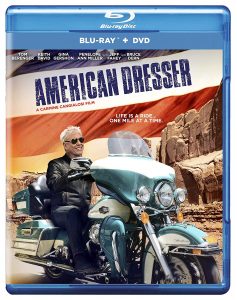 Tom Berenger stars in American Dresser, the latest motorcycle movie for a new generation – as well as those of us who remember Easy Rider and Wild Hogs. The film co-stars Carmine Cangialosi who also wrote, directed, and produced the film.
After the death of his wife Sandra (Gina Gershon), John (Berenger) is devastated. His two daughters are at their wits ends. John drinks all the time and is depressed. Then he discovers a hidden letter that reveals a long-held secret. John decides to take off for Oregon on his Harley to clear his head and to find what has been missing in his life.
His best buddy Charlie (Keith David) insists on accompanying him on his journey, knowing this will be his last time riding a motorcycle. He is due to have a leg amputated and wants one last adventure with his old buddy.
Along the way they meet Willie (Cangialosi) who ends up accompanying the two across the country. The journey starts in Long Island, New York, goes down south then out to Monument Valley then to Los Angeles, and finally ends in Bend, Oregon. The trio has some very interesting and reflective experiences on their cross-country excursion and little by little their pasts are revealed. But although this is a story about the three men, it is also meant to be a story about the open road and the motorcycle culture.
On his return to New York, John goes through Sturgis, South Dakota, the location where motorcycle enthusiasts gather annually to get together, have fun, and experience the great world of the life of a biker. The movie was able to film on location during the 2017 Sturgis Motorcycle Rally.
Also appearing in the movie are Bruce Dern, Penelope Ann Miller, and Jeff Fahey.
Berenger has had a long career in the industry, first catching the attention of moviegoers in the 1983 generational film The Big Chill. From there his career rose as he piled on credits to his resume. He is older but still has the charisma and charm his fans have come to know and love.
American Dresser is an interesting emotional and scenic journey across the United States and into the lives of the three characters. It's not rated however there is drinking, drugs, and sex so the film is not meant for young viewers.
About the Author
Francine Brokaw has been covering all aspects of the entertainment industry for over 25 years. She also writes about products and travel. She has been published in national and international newspapers and magazines as well as Internet websites. She has written her own book, Beyond the Red Carpet The World of Entertainment Journalists, from Sourced Media Books.
Follow her on Twitter