America Ferrera talks about 'Superstore'
Category:
Television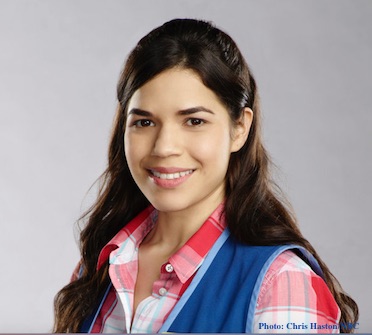 America Ferrera stars in the hit comedy Superstore on NBC. Recently Ferrera and other members of the cast spoke to the media about the show and how it has affected them as well as the landscape of TV.
Superstore is about a group of employees at a big box store. The show has political undertones as it brings up issues like unions and undocumented workers, among others. "We're representing working class people in a setting that is the intersection of American consumerism, and you'll see every race, religion, background, class in this environment," explained Ferrera. "And so it's so ripe to have any conversation you want without it feeling forced. And on top of that, we have this incredible cast that represents so many different kinds of people, and so we don't have to necessarily take sides to be having a conversation." She said they're not using the show as a "soapbox or preaching so much as we are all characters that represent different experiences of life and different points of view."
Ferrera is happy about the storylines that thread through the series. "I love that for a character like Mateo (played by Nico Santos) who's gay and maybe five years ago that would have been the thing that defines his character, we're beyond that now. We're beyond that in society. We're beyond that in television. And so now, give him another storyline that is going to push the envelope a little bit. And, I mean, I don't know how the undocumented story came about," but the series is tackling that now.
Ferrera had a big success with her series Ugly Betty that ran from 2006-2010. She is the voice of Astrid in the How to Train Your Dragon franchise, and played Carmen in The Sisterhood of the Traveling Pants films. She has also appeared in several other films and TV shows. This 32 year-old actress has a large fan base for all of her roles, and as Amy in "Superstore" she continues to collect loyal and loving admirers. "It's really lovely to walk into those stores and get so much love from people who work in those kinds of stores and say, you know, this show is so fun to watch. It's nice that it's a positive reaction and not a bad one."
Superstore returns for season 2 on September 22, 2016.
About the Author
Francine Brokaw has been covering all aspects of the entertainment industry for 20 years. She also writes about products and travel. She has been published in national and international newspapers and magazines as well as Internet websites. She has written her own book, Beyond the Red Carpet The World of Entertainment Journalists, from Sourced Media Books.
Follow her on Twitter