'Amazonia' on DVD
Category:
Blu-ray's and DVD's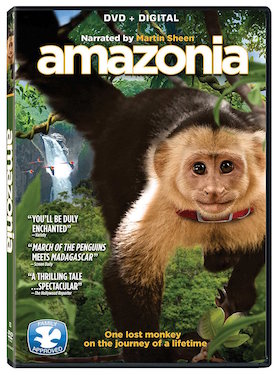 Martin Sheen narrates Amazonia, a pseudo-documentary about life in the Amazon Rainforest. In the "making of" bonus feature the filmmakers relate how they didn't want to make a regular documentary showing life, dangers, companionship in the Amazon and the threat to the rainforest. Instead, they decided to show the Amazon through the eyes of a newcomer, so they created a fun-filled and emotional story about a little monkey who was raised by humans and through an accident is left alone to fend for himself in the wild.
Sai is a sweet little capuchin monkey who was raised by a loving human family. He is sent away and during his flight the plane crashes in the middle of the Amazon. Sai is left to fend for himself. Not knowing anything about how to survive, he learns from the other animals in the rainforest.
Being a partial documentary, there are all kinds of animals and critters looked at and described. Butterflies, jaguars, snakes, sloths, birds, ants, river dolphins, monkeys, and even other capuchin monkeys are part of Sai's adventures. Sai discovers all kinds of interesting things and animals while struggling to survive.
The photography is beautiful and the scenery is awe-inspiring. The Amazon, with its lush greenery, supplies the most oxygen for the planet and is in danger. That is what they filmmakers wanted to relay with their film. But by showing the living creatures through the eyes of this adorable little monkey, they not only show the ecosystem of the Amazon, but also strike an emotional chord in the viewers.
Amazonia is a spectacular story of life in the Amazon with the story of Sai layered on top of that. While there are some scenes of peril, rest assured, little Sai does survive, so if you have very sensitive children, you know there is a happy ending for him. Although there is one major death in the story, the main character is a survivor and in the end finds his way to where he is meant to be.
The movie was originally in French, but with Sheen narrating, it is now available in English.
Amazonia is rated G.
About the Author
Francine Brokaw has been covering all aspects of the entertainment industry for over 20 years. She also writes about products and travel. She has been published in national and international newspapers and magazines as well as Internet websites. She has written her own book, Beyond the Red Carpet The World of Entertainment Journalists, from Sourced Media Books.
Follow her on Twitter