'Amazing Water' CD/Book Giveaway
Category:
Giveaways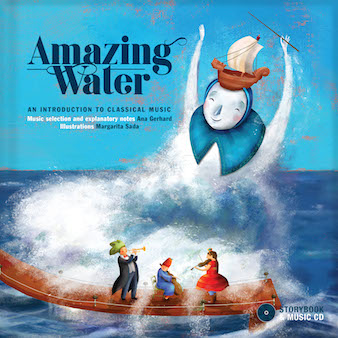 Oceans, rivers and lakes have inspired composers throughout history. A new book-CD in The Secret Mountain's growing collection of classical music titles explores the flowing realm of "amazing water" as expressed by composers from the 17th century to the present day. The perfect gift for young music lovers, Amazing Water provides a wealth of information about the music and a variety of composers.
Mexico City-based author and music educator Ana Gerhard introduces children (and their grown-ups) to the works of Handel, Bach, Schubert, Vivaldi, Beethoven, Debussy, and others by demonstrating how water (the sea, rivers, fountains, and rainfall) has inspired the composers. The book pairs three centuries of music history with colorful and evocative illustrations. The 68-page hardcover picture book features a glossary of musical terms, a timeline of musical history, and a short biography of each composer.
The accompanying CD features 20 excerpts from various recordings performed by world-class luminaries.
The Secret Mountain, celebrating 15 years of publishing music-forward children's storybooks, has released other popular titles focusing on classical music, including Listen to the Birds, Simply Fantastic (both by Ana Gerhard) and Sleep Softly. The extensive catalog of award-winning storybook – music CD titles for children includes Songs from the Baobob (African Lullabies), Dreams Are Made for Children (Classic Jazz Lullabies), A Duck in New York City by singer-songwriter Connie Kaldor and Tomorrow Is a Chance To Start Over (Hilary Grist). Visit their website for more news.
We have some Amazing Water CD/Book sets to giveaway.
To be eligible to win a copy of Amazing Water, email us at [email protected] with "Amazing Water Giveaway" in the title. Please supply your name, address, phone number and email address (so we can let you know if you are a winner).
The deadline for this giveaway is June 10, 2016.