Aloha – Movie Review
Category:
Movies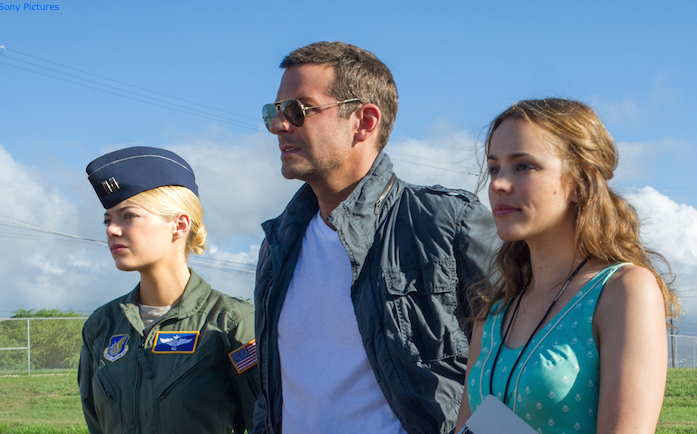 Bradley Cooper, Emma Stone, Rachel McAdams, John Krasinski, and Bill Murray star in Cameron Crowe's newest film Aloha. "Aloha is a movie about second chances at life," says Crowe.
The story begins with Brian Gilcrest (Cooper) returning to Hawaii where he had lived almost 17 years ago. He had been in the military however due to injuries suffered in Afghanistan, he had to retire. Now he is a military contractor working with billionaire Carson Welch (Murray) placing a satellite in orbit. While in Hawaii, Gilcrest is provided with a military escort, Allison Ng (Stone) who adores him while seeing something in his eyes that show a discontent with life.
Gilcrest is reunited with his old girlfriend Tracy (McAdams) who still harbors feeling for him. Tracy has been hiding a lot from her family concerning her past relationship with Gilcrest, and throughout the film little by little, bits from their past are revealed.
The highly idealistic Ng clashes with Gilcrest when it comes to the real purpose of his assignment in Hawaii. But personal feelings will alter both of their destinies.
"Gilcrest, played by Bradley Cooper, is a very complex character," says Crowe. "He's gone from being an idealist as a younger man to being a compromised person.  In the movie, he receives another chance in life to reclaim the thing that powered all of his original idealism when he was a younger person.  The question is: is he able to take the best of the past and move forward?"
Aloha is a little disjointed and as the story progresses audiences will be challenged to put the pieces together to make the story complete. In fact, there are plenty of loose ends and while the characters all seem to have a history with each other, what exactly happened in the past is still not clear even when the film is over. It is difficult to understand everything about how their pasts have intersected and brought them to where they are today. To put it bluntly, it is a bit confusing.
Cameron Crowe wrote, produced, and directed this film. "I wanted to tell the story of the lure of the past and the promise of the future," says Crowe.  "It's always easy to look backwards, to remember all of the good moments that happened, and to long for those moments.  It's scarier to look at the future and try to create a future that's as rich – and even more rich – than the past.  I wanted to tell the story of a guy who's been looking over his shoulder with a certain amount of regret, who learns to look forward.  That was the dream of what a story set in Hawaii could be."
Aloha is rated PG-13 for some language including suggestive comments.
About the Author
Francine Brokaw has been covering all aspects of the entertainment business for 20 years. She also writes about technology and has been a travel writer for the past 12 years. She has been published in national and international newspapers and magazines as well as internet websites. She has written her own book, Beyond the Red Carpet The World of Entertainment Journalists, from Sourced Media Books.
Follow her on Twitter
Like her on Facebook