All in a Night's Work on DVD
Category:
Blu-ray's and DVD's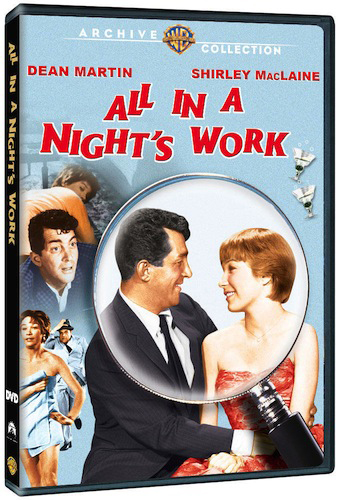 All in a Night's Work is a fun-filled 1961 romantic comedy starring Dean Martin and Shirley MacLaine. It's a whacky romp through the world of big business.
Dean Martin plays Tony Rider, a man who just inherited his uncle's publishing empire. Tony is a swinging man who gives the appearance of not knowing anything about business, but he fools everyone. When he first takes the helm of the empire immediately following the death of his beloved and highly admired uncle, he is told he can take himself "from a useless life to a life of use." But no one knows he is smart and already a great businessman.
MacLaine plays Katie Robbins, a woman who works in the research department of the magazine empire now run by Tony Rider. She is also on the union board and represents the union at the first meeting with the magazine's new owner. Tony, being a man who adores women, immediately takes a liking to Katie.
Katie is a cutie. She is engaged to veterinarian Warren Kingsley, Jr. (Cliff Robertson) who comes from a stuffy household. He doesn't tolerate any funny business, which is what he discovers is happening between Katie and Tony. Well, it's what he thinks is happening.
Tony is truly interested in Katie, but he also has another motive for pursuing her. She is thought to be the woman who was having an affair with his uncle when he died in a Florida hotel and is waiting for her to blackmail the corporation. An earring was found in the man's room, and in truth, it was Katie's, who was in Florida on a vacation. But the whole story of how her earring wound up in the room of the dead tycoon is definitely a whacky one.
This is a cute romantic comedy from the early 1960s, and the two stars have great onscreen chemistry. In fact, they were great friends off screen. Martin was one of the famed Rat Pack and MacLaine was actually close to the pack. One time when I was interviewing Ms. MacLaine, we commiserated about our crushes on Dean Martin. She said he treated her like a sister, to her chagrin. The two of them together make this the fun film it is.
All in a Night's Work is part of the Warner Archive Collection and is available at their website www.wbshop.com. Yes, it's old-fashioned. Yes, there are some great one-liners. And yes, the cast is fun to watch. It's a delightful romantic comedy with two delightful actors.
About the Author
Francine Brokaw has been covering all aspects of the entertainment business for 20 years. She also writes about technology and has been a travel writer for the past 12 years. She has been published in national and international newspapers and magazines as well as Internet websites. She has written her own book, Beyond the Red Carpet: The World of Entertainment Journalists, from Sourced Media Books.
Follow her on Twitter
Like her on Facebook