All at Sea DVD from Warner Archive Collection
Category:
Blu-ray's and DVD's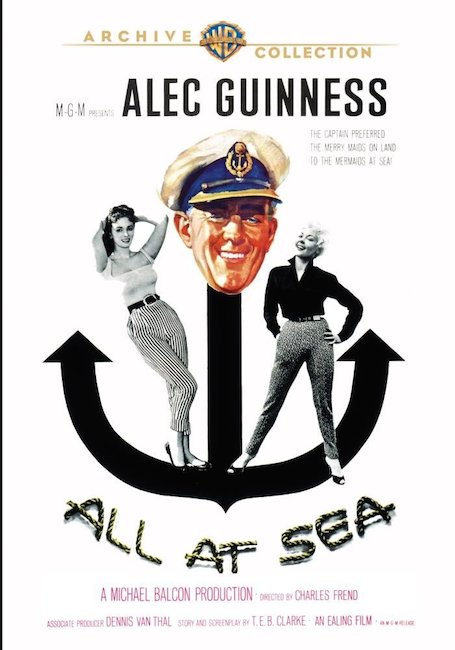 Alec Guinness stars in All at Sea, a 1957 movie about a bumbling but intelligent sea captain. Captain William Horatio Ambrose is from a long line of sailors and is expected to follow his ancestors' path. While eager to do so, he has one major problem. He gets seasick. Very seasick.
So what does a sea captain who cannot go to sea do with himself when his entire life was dedicated to living as a sailor? He buys a pier. And it's not just any pier. He purchases a dilapidated pier in a small coastal community with a town council that scrutinizes everything going on in town. When Captain Ambrose learns the council is going to take over his pier and demolish it, he does something very clever. He registers the pier as a ship.
This is the best solution for his seasick dilemma. He runs the motionless vessel like the commander he was meant to be – with the added advantage of not moving on the ocean. His cunning is no match for the town council. And his dedication to his "ship" is heroic.
Guinness is quite simply delightful. This great actor embodies the role in a way that garners not only adoration but also empathy from the viewers. By turning the dilapidated pier into a "cruise ship" with plenty of fun for his "passengers," Captain Ambrose also gets the love and respect of the townsfolk. And, the icing on the cake is the partnership he forges with one of his earlier enemies.
This is a fun little film. While it doesn't showcase Alec Guinness's dramatic talent (he won an Academy Award in 1958 for The Bridge on the River Kwai), it does show he had a great talent for light-hearted roles as well as the meatier ones. Guinness played everything from Sigmund Freud to Obi-Wan Kenobi. He racked up over 60 acting credits in his 86-year lifetime and continues to be a beloved actor to film buffs.
All at Sea is part of the Warner Archive Collection. It is available from their website at www.wbshop.com.
About the Author
Francine Brokaw has been covering all aspects of the entertainment business for 20 years. She also writes about technology and has been a travel writer for the past 12 years. She has been published in national and international newspapers and magazines as well as internet websites. She has written her own book, Beyond the Red Carpet The World of Entertainment Journalists, from Sourced Media Books.
Follow her on Twitter
Like her on Facebook