'Alice Through the Looking Glass' Combo Pack
Category:
Blu-ray's and DVD's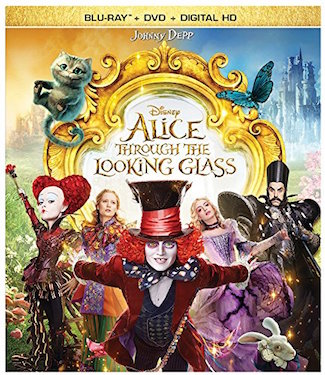 In 2010 Tim Burton created a magical world in Alice in Wonderland. Burton used parts of both Lewis Carroll's books, Alice's Adventures in Wonderland and Through the Looking Glass for his film. In Alice Through the Looking Glass, Burton's whimsical characters based on those created by Carroll, as well as new ones, combine in another fantasy filled with colorful people and animals, locations, and interesting stories. This movie fills in some of the blanks in the original story and viewers learn the origins of the characters and their relationships with each other.
Alice (Mia Wasikowska) had spent time roaming the world but now, back in London, she discovers a magical looking glass. It is through this looking glass where she returns to Underland and her old friends. Once there, she learns that the Hatter is in trouble. She sets out to help him before it's too late.
The bonus features in this Blu-ray + DVD + Digital HD combo pack are various and add a lot of background to the story, the film, and the filmmakers. Anne Hathaway, who returns to play the White Queen, says about this new movie, "Its essentially a family drama set against a cartoon background."
This film adds another character – Time. Time is an odd fellow played by Sacha Baron Cohen. Johnny Depp, the Mad Hatter, and Cohen had several scenes when they adlibbed for a long time, with some pretty cute results. Besides the characters, the intricate and amazing sets add to the flavor of this film.
There is a bonus feature looking at the costumes with costume designer Colleen Atwood. She explains that she didn't want Time to look like a clock. He has an interesting costume but what is more interesting about what Atwood described is the intricacies put into every one of the costumes. Details made all the difference, although many viewers won't see all of them. They are there, yet easy to miss. Look carefully to see all the creative detailing in the wardrobes.
Another feature examines the characters. By this time we all have our favorites. Who is yours? Would it be Absolem (Alan Rickman), the caterpillar that is now a butterfly? Or the Cheshire Cat (Stephen Fry)? Or the mouse Mallymkun (Barbara Windsor)? Or maybe you like my favorite, Thackery (Paul Whitehouse).
Yet another bonus is an off-the-cuff interview with Time. In it he discusses several aspects of the writing of the story and the making of the film. Leave it to Sacha Baron Cohen for something like this. And perhaps the most interesting bonus is a side-by-side look at a scene – one the way it was originally filmed with blue screen, and the other the final version. It's amazing to see the difference and also think about how the actors had to actually "act" when there wasn't a real set or others to act with. Yet that's exactly how this art form works.
Deleted scenes and a music video by Pink round out all the bonus features in this combo pack.
If you like Tim Burton, chances are you will like this movie. If not, then you won't. Alice Through the Looking Glass is rated PG for fantasy action, peril, and some language.
About the Author
Francine Brokaw has been covering all aspects of the entertainment industry for over 20 years. She also writes about products and travel. She has been published in national and international newspapers and magazines as well as Internet websites. She has written her own book, Beyond the Red Carpet The World of Entertainment Journalists, from Sourced Media Books.
Follow her on Twitter