Alaska Airlines commemorates Disneyland's Toontown with new plane
Category:
Travel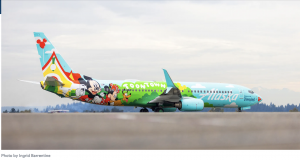 Why fly on an ordinary plane when you can enjoy the fun of your favorite Disney pals? Alaska Airlines, noted for some fun and colorful planes in their fleet, has just announced the newest addition that honors Disney and Mickey's Toontown at Disneyland Resort.
Mickey, Minnie, Goofy, Donald, and Daisy adorn the outside of this aircraft with Chip 'n' Dale on the doors and winglets. It took artists over 400 hours to hand paint the exterior of this plane with the bright colors that make it unique from all others. 
The plane is named "Mickey's Toontown Express" and will fly to/from Orange County's John Wayne airport as well as other locations in the Alaska Airlines list of destinations. Imagine looking up and seeing Goofy flying by.
When passengers look out the window they get a cute view of Chip or Dale sitting on a winglet. And on the front of the exterior of the plane has a Mickey-shaped balloon and the invitation "Follow us to Disneyland Resort." To say this is a festive way to start a Disneyland vacation is an understatement.
"It's heartening how much our Disneyland Resort-themed airplanes spark joy in our guests — young and young at heart. What makes this even more special is the return of Mickey Mouse on an Alaska Airlines plane since he made his debut on our fleet eight years ago," said Sangita Woerner, Alaska's senior vice-president of marketing and guest experience. "Alaska's long-standing relationship with the Disneyland Resort has helped to create unforgettable experiences for our guests and employees. As a family-friendly airline, it speaks to the care we strive to show everyday with these special touches."
Alaska Airlines offers priority boarding for families with children under two and they do not charge extra for family seating. They also offer coloring books and Kids' Choice Picnic Pack and Jam Sandwiches for premium and main cabin passengers. Mickey's Toontown Express also has activity  books and snack packs featuring Mickey and his friends (while supplies last).
"Our relationship with Alaska Airlines is more than 25 years strong and truly celebrates the magic of Disney," said Sybil Crum, vice president of marketing and commercial strategy at Disneyland Resort. "The plane's artwork marks Alaska Airlines' eighth transformation of an aircraft featuring Disney artistry and exhibits the excitement and playfulness of the re-imagined Mickey's Toontown. We're so delighted for the opportunity to create even more memorable experiences for our guests together."
In the past, Alaska Airlines has decorated planes with Star Wars and Toy Story. Now Mickey's Toontown Express adds a new level of fun to flying, and we all know how stressful flying can be. 
The next time you look up into the sky you might just see Mickey's Toontown Express winging its way to Disneyland. 
About the Author
Francine Brokaw has been covering all aspects of the entertainment industry for over 30 years. She also writes about products and travel. She has been published in national and international newspapers and magazines as well as Internet websites. She has written her own book, Beyond the Red Carpet The World of Entertainment Journalists, is the entertainment correspondent for Good Day Orange County, and has her own TV show, Beyond the Red Carpet, on Village Television in Orange County. She is a longstanding member of the Television Critics Association and is accredited by the MPAA. Follow her on Twitter.