Aidan Turner talks about his take on Ross Poldark
Category:
Television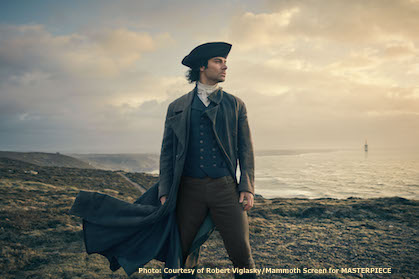 In January 2015 when Aidan Turner was asked about his upcoming starring role, he described Captain Ross Poldark as a strong, fair, honest, and interesting character. He also said, "his moral compass is so in the right place." Bravo!! We haven't seen one of those honorable characters for quite some time.
In case you missed the first season of Poldark, it's about the saga of the Poldark clan in Cornwall (England) in the 18th century. Captain Poldark returns to his ancestral home after the American Revolutionary War to discover that his father is dead, his lands are ruined, and his true love is about to marry his first cousin. Based on the novels by Winston Graham, Poldark depicts the trials and tribulations of Ross Poldark as he tries to rebuild his life from scratch with a new business venture and his numerous unconventional choices. It was jam-packed with one gut-wrenching and heart-breaking loss after another and ended with his arrest on multiple hanging charges.
Then I came across a number of video interviews Turner gave and was shocked to hear that he didn't think Ross was a hero. Wait! What? I totally bought what PBS was selling and absolutely worshipped the ground Poldark walked on. In the current Antihero Worship climate, decent characters who learn and grow are few and far between.
At the press conference in July 2016, Turner explained his take on Ross Poldark. "He is a heavily flawed character." To my surprise, he did not leave it at that. "We would almost call him today like a control freak sort of a guy. He needs to be in pole position for everything, at the helm of every ship he sails and he's not great at delegation. He can be quite mean and callous and single minded and selfish." Really? Have we met?
After the session, I had a conversation with Turner. The tumultuous second season made him paint a different picture. "He's a guy who makes a lot of mistakes and realizes them as they happen," explained Turner. So he's reckless, not ruthless, which makes him more human. As long as he learns from his mistakes and makes a course correction, I am OK with that. He's certainly no Frank Underwood (House of Cards)who has no redeeming qualities whatsoever!
Turner still appeared to be very uncomfortable with our perennial fascination with heroes. When he started throwing in words like 'enigma,' 'lawless,' 'renegade,' and 'rebel' to add more negative layers to Poldark, I realized we were not wrestling with the definition of a hero any more. Come to think of it, Turner never described Poldark as a hero. Maybe he's too humble to admit that he's playing a heroic role. Maybe he is afraid of being typecast. But then again, Turner might know something I'm not privy to since I have neither seen Season 2 in its entirety nor read Graham's books. We shall see.
Poldark returns Sunday, September 25, on PBS' MASTERPIECE, with a two-hour premiere. Hero or not, Ross will be further tested in every aspects of his life. Expect more problems in his relationships with maid-turned-wife Demelza (Eleanor Tomlinson) and Elizabeth (Heida Reed), The One That Got Away. The feud between Old Money Ross Poldark and New Money George Warleggan (Jack Farthing) will come to a head. Can a Man of Principle navigate in shades of grey? The implications of Ross' moral decisions are going to be bigger and far-reaching than the first season.
About the Author
Meg Mimura is a TV critic who actually watches shows zealously in search of human drama worth watching. She is a member of Television Critics Association as well as Academy of Television Arts and Sciences.