Against the Wild on DVD
Category:
Blu-ray's and DVD's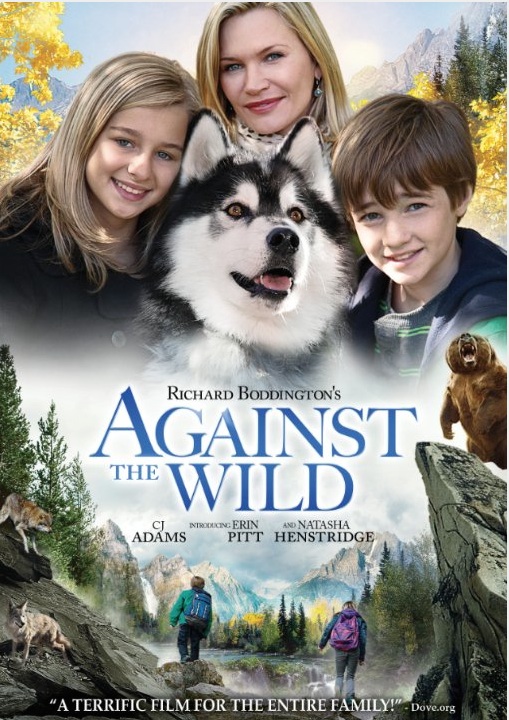 Young siblings, Zach and Hanna (CJ Adams and Erin Pitt) and their loyal dog Chinook, an Alaskan Malamute, find themselves in a difficult and dangerous situation when their seaplane crashes in the forest, leaving them to survive on their own while trekking through the wild to find help for the injured pilot. The brother and sister just left their mother (Natasha Henstridge) and were on their way to visit their father (Ted Whittall) for the weekend when their plane went down.
The situation seems more difficult for their parents who are at the base camp, worried about the youngsters in the forest. Meanwhile, Zach and Hanna, and Chinook must find water, shelter, and stay safe from a pack of hungry wolves and a grizzly bear. And if that weren't enough, when a fire breaks out in the forest, they must deal with that as well.
The scenery is like a beautiful Northern Canadian travel film, with lakes, mountains, and the colorful leaves which make this part of the country so breathtaking in the fall. And the music adds to this aspect of the film. The cinematography and the musical score (performed by a live 65-piece orchestra) are the memorable parts of this film. For a relatively low budget movie, the score is amazing.
This is an exciting film for young viewers as they see two kids using their ingenuity and Cub Scout training to survive in the wild. And Chinook helps out and ultimately shows how good a working dog he really is. Against the Wild won three awards: Director's Choice Award (Richard Boddington) and Crystal Image Award (CJ Adams) at the Rhode Island International Film Festival, and the Young Artist Award for Erin Pitt.
Bonus features on the DVD include outtakes and a feature about the wonderful music in the film.  Against the Wild is rated PG for action peril.
Note: No animals die in this movie (except for a fish). So children (and adults) who refrain from movies with animals because of this sensitivity do not have to worry about watching this film.

About the Author
Francine Brokaw has been covering all aspects of the entertainment business for 20 years. She also writes about technology and has been a travel writer for the past 12 years. She has been published in national and international newspapers and magazines as well as internet websites. She has written her own book, Beyond the Red Carpet The World of Entertainment Journalists, from Sourced Media Books.
Follow her on Twitter
Like her on Facebook