After Words Movie Review
Category:
Movies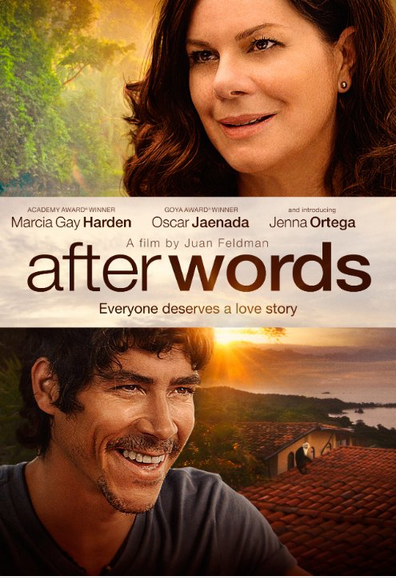 Marcia Gay Harden carries the movie After Words, the story of Jane, a lonely, depressed, middle-aged librarian from Los Angeles who travels to Costa Rica for a week to experience something new before she dies. After realizing she won't have anything interesting to relive at the moment when your whole life supposedly passed before your eyes when you die, Jane wants something to remember at that time.
Describing herself as a "pathetic librarian" Jane decides to take off for this exotic country before she takes her own life. She meets Juan (Oscar Jaenada), a local guide and gigolo, who romances American women for money. After all, he need a lot of money to send his daughter Anna (Jenna Ortega) to a fancy private school where she can get the best education and eventually go to college.
When she first gets to Costa Rica, Jane is the typical lonely American woman looking for something. While Juan feels he can satisfy her, he soon realized she is not interested in anything romantic. She is there to see the beauty of the country and the local flora and fauna.
While Juan shows Jane the wonders of his country, she conveys to him the great wonders of the world of books. He is impressed with her intelligence and manages to stir something inside this woman, while at the same time she is doing something to him. He is not interested in simply taking her money. He is interested in Jane, the intelligent and confused woman.
Jane came to Costa Rica to "do a little living" before she dies, but she does more than simply a "little" living. And Juan also discovers much more than simply the wonders of his country.
The beauty of Costa Rica is unveiled on the screen like a magical travel video, as the adventure and yes, eventual romance, between the two characters slowly unfolds.
"After Words takes audiences on a unique and life-affirming journey to beautiful Costa Rica," said Andreas Olavarria, President of Level 33 Entertainment.  "The film features another in a long line of terrific performances by Marcia Gay Harden as well as several wonderful turns by a talented supporting cast led by Oscar Jaenada."
Harden is brilliant as Jane, a woman who starts out completely despondent and ends up having the best week of her entire life. This is a charming film that will leave audiences feeling hopeful.
After Words is currently unrated however it is not suitable for young kids.
About the Author
Francine Brokaw has been covering all aspects of the entertainment business for 20 years. She also writes about technology and has been a travel writer for the past 12 years. She has been published in national and international newspapers and magazines as well as internet websites. She has written her own book, Beyond the Red Carpet The World of Entertainment Journalists, from Sourced Media Books.
Follow her on Twitter
Like her on Facebook