'Adventures of Dally & Spanky' on DVD
Category:
Blu-ray's and DVD's
Adventures of Dally & Spanky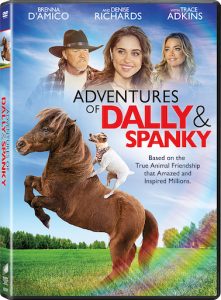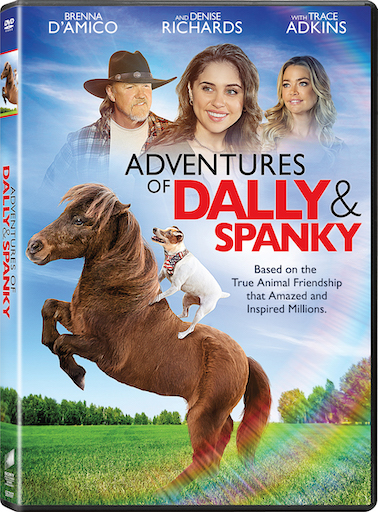 is a fun little story taken from real life. It's about the unlikely friendship of a little Jack Russell Terrier named Dally and a miniature horse named Spanky. But more than that, it's the story of how these two animals rescued a family.
Addy (Brenna D'Amico) and her younger half-sister Ella (Reylynne Caster) are at odds with each other. After all, they don't have much in common. They live with their mother and her second husband, Ella's father. When Addy's father (Trace Adkins) dies, she is deeply depressed and only finds solace in the miniature horse he left her. Spanky is the only thing she has from her dad and she adores the little guy.
The family soon discovers that Ella's dog Dally adores Spanky too, and vice versa. The two get along and Spanky even takes Dally for rides on his back.
After entering the school's talent competition with their "Dog and Pony" show, Ella and Addy think they have a way out of their family's financial troubles. If they can win enough money their parents won't have to give Spanky away. If they can win the prize money then that will help with Spanky's expenses. But what they soon discover is that the thousand-dollar prize is simply not enough.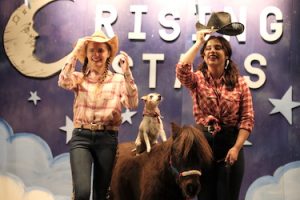 With only a short time before Spanky is scheduled to go to a local ranch, the girls decide to enter a national talent competition. Perhaps that will help keep Spanky at home.
While they practice and train the two animals, viewers see a sweet bond between the dog and pony and the love between the two girls.
The antics of the two animals has captured the hearts and attention of Internet viewers so much so that this heartwarming film was produced to bring their story to a wider audience. This is a cute family film everyone will enjoy.
Adventures of Dally & Spanky is rated PG for brief language.
About the Author
Francine Brokaw has been covering all aspects of the entertainment industry for over 25 years. She also writes about products and travel. She has been published in national and international newspapers and magazines as well as Internet websites. She has written her own book, Beyond the Red Carpet The World of Entertainment Journalists, from Sourced Media Books, is the entertainment correspondent for Good Day Orange County, and has her own TV show, Beyond the Red Carpet, on Village Television in Orange County. Follow her on Twitter.