Adore - on Blu-ray and DVD
Category:
Blu-ray's and DVD's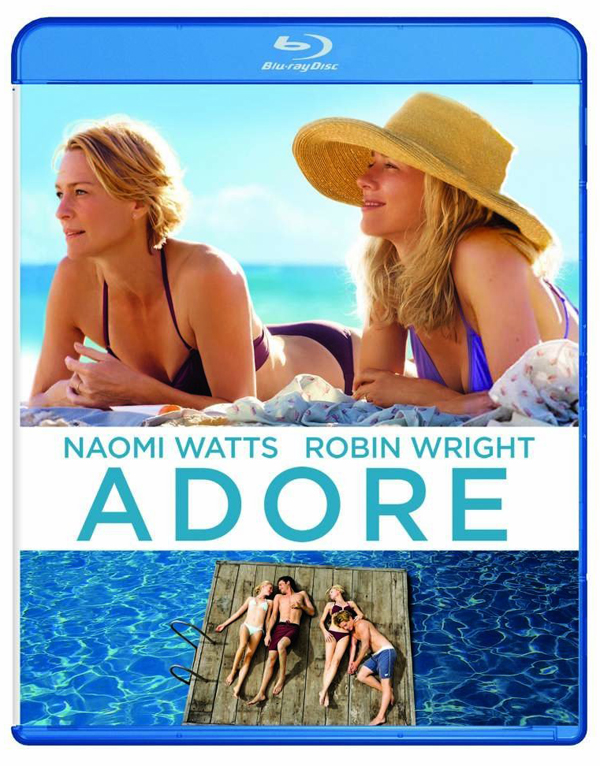 Adore is definitely an adults-only film. It's a provocative story starring two amazing actresses – Naomi Watts and Robin Wright.
Lil (Watts) and Roz (Wright) have been best friends since they were young. Now grown up, they are still the very best of friends and share everything – Everything! Their sons are also best friends and since they all live practically next door to each other, they basically form one tight-knit family.
With their sons in their late teens, Lil (a widow), her son Ian (Xavier Samuel), Roz, her son Tom (James Frencheville) and even Roz' husband Harold (Ben Mendelsohn) spend most of their time together. They live in a picturesque Australian seaside town and spend all of their free time at the beach. The boys surf and the women swim and sunbathe. Then, when Harold gets offered a job in Sydney, their idyllic situation is put to the test. Will Roz and Tom move to Sydney to be with Harold?
While Harold is away, the foursome enters into a different dynamic. The women become lovers with each other's sons, a situation that originally causes them concern (duh) but as time goes by they discover they are dedicated to this unique foursome.
The boys are attracted to the women who have been second mothers to them, and the women enjoy the sex and the intimate relationships. It's an unconventional relationship between all of them yet they are bound to each other. But the boys are growing up and after two years of this relationship things are bound to change. Is it right for Lil and Roz to keep them for themselves? Shouldn't the boys be socializing with girls their own age?
This is definitely an interesting situation and the performances by both Watts and Wright are amazing. Although only 110 minutes, it often feels longer as this is a slow-moving plot with little action. This movie is the epitome of the word "drama." While many viewers will find it an extremely odd and unsettling situation, there is something riveting about the movie, perhaps because the performances are compelling.
Adore is rated R for pervasive language, some drug use and sexual content. There is also some nudity, however the sexual content is the most important part of the film.
About the Author
Francine Brokaw has been covering all aspects of the entertainment business for 20 years. She also writes about technology and has been a travel writer for the past 12 years. She has been published in national and international newspapers and magazines as well as Internet websites. She has written her own book, Beyond the Red Carpet: The World of Entertainment Journalists, from Sourced Media Books.
Follow her on Twitter
Like her on Facebook