'A Year and Change'
Category:
Movies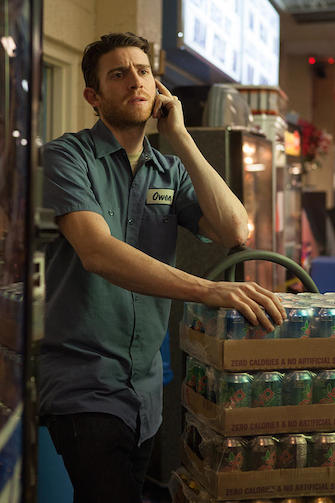 A Year and Change is a story of discovery and change. The film follows Owen (Bryan Greenberg) as he reevaluates his life and decides that his life is not what he wants it to be. So change is needed.
Owen is a vending machine manager. He goes from business to business emptying the change from the machines and stocking their contents. He is divorced with a young son. Owen doesn't spend much time with his son and spends most of his time drinking and doing drugs. To say he isn't the model father is a gross understatement.
During the course of a year, Owen changes his life and turns his future around. He reconnects with his son and quits all his carousing around and bad habits of drinking and drugs. He also falls in love with a woman (Claire van der Boom) and it looks like things are finally going well for this man.
"It's such a pleasure to represent this poignant, life-affirming film," says Lise Romanoff, Managing Director/CEO of Vision Films. "It has a tremendous cast of talented actors, an inspirational and entertaining story and an ending that will stay with you for a while. In other words, a perfect Thanksgiving treat!"
Producer Emily Ting said, "A Year and Change is such a sweet film about redemption and second chances. I can't wait to finally share the film with the world, and I think we found the perfect partner in Vision Films".
The movie is slow moving and a bit dry however the message that we can all change is liberating and hopeful. Owen goes from a pessimistic man to an optimistic one. He goes from seeing the changing leaves in the fall as just dying leaves to seeing the beauty in their colors.
A Year and Change is not rated however it is not suitable for young kid. It opens in theaters November 24, 2015.
About the Author
Francine Brokaw has been covering all aspects of the entertainment industry for 20 years. She also writes about products and travel. She has been published in national and international newspapers and magazines as well as Internet websites. She has written her own book, Beyond the Red Carpet The World of Entertainment Journalists, from Sourced Media Books.
Follow her on Twitter