'A Street Cat Named Bob' on Blu-ray and DVD
Category:
Blu-ray's and DVD's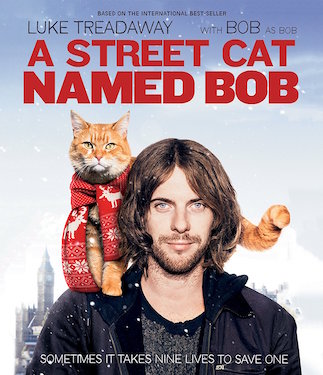 A Street Cat Named Bob is the true story of James Bowen and his cat Bob. While Luke Treadway plays Bowen in the movie, Bob is played by himself, which makes for an even more entertaining and heartening story.
The story revolves around Bowen (Luke Treadway), a homeless junkie living on the streets in London. To make money he plays his guitar and sings. He is on a methadone program and supervised by a sympathetic woman named Val (Joanne Froggatt) who eventually finds him housing in a project and knows he truly wants to get his act together and get clean.
One day a cat wonders into his apartment. The two become inseparable and James even spends the last of his money for medicine for his cat Bob.
Bob is endearing and devoted. He is also a little different from any other cat. He likes being on a leash and he rides on James' shoulders and comfortably in a basket on his bike.
Everyone loves to watch Bob riding through the streets on James' shoulders and see him when James is singing. Soon the two are stars on the Internet. With Bob by his side, James' income rises. He is able to buy real food for himself and Bob. And his neighbor Betty (Ruta Gedmintas) helps both of them with encouragement and friendship.
Once you watch this movie you might want to go to Amazon or a bookstore and pick up some of the books written about Bob by James.
A Street Cat Named Bob is heartening, entertaining, inspiring, and wonderful. The few short bonus features add a little background to the original story with the cast and James Bowen, and of course Bob.
You might not think of this as a noteworthy film when you first pop it into your player, however it quickly grows on you and you'll become emotionally invested in these two characters. It is a film I have recommended to others because it is so uplifting. In reality, and in this movie, James Bowen saved Bob's life and Bob saved James' life. Talk about a great story. And the fact that it is based on their real lives makes it even more remarkable.
If you're in the mood for an inspiring and moving film, this is it.
The film is not rated however due to the subject matter it is not for children.
About the Author
Francine Brokaw has been covering all aspects of the entertainment industry for over 20 years. She also writes about products and travel. She has been published in national and international newspapers and magazines as well as Internet websites. She has written her own book, Beyond the Red Carpet The World of Entertainment Journalists, from Sourced Media Books.
Follow her on Twitter