'A Stork's Journey' on DVD
Category:
Blu-ray's and DVD's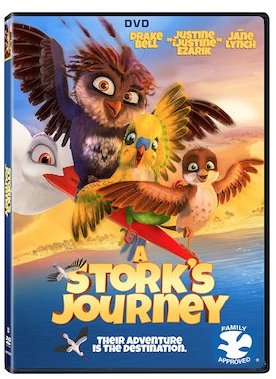 Baby Richard is about to hatch. His parents are anxiously awaiting his arrival but unfortunately they are taken (aka eaten) just before he emerges from his egg. Then Aurora, a mother stork, hears the commotion in the nest and discovers Richard hatching. She feels badly for the little fellow. After all, he's an orphan. So she takes him to live with her family. A Stork's Journey is the story of Richard and his family and friends.
Richard (voiced by Drake Bell) is raised as Aurora and Claudius' son and Max's brother. He doesn't understand he is not a stork. When the time comes for the flock to migrate south, he is finally told he is a sparrow and not a stork, which is something he fiercely discounts. He knows he can keep up with the flock however they leave him behind, "for his own good."
Richard awakens to discover he is alone. He sets off on a whacky adventure to join his family. Along the way he teams up with a pigmy owl named Olga (voiced by Jane Lynch). Olga never fit in with her own family, being a rather large pigmy owl. So she knows the feeling of being the odd man out, so to speak. They are then joined by a songbird named Kiki. This trio is quite strange, but they form a tight knit little group who just want to help Richard rejoin his "family."
To get to Africa to meet up with the flock, which are flying south, Richard, Olga, and Kiki fly, take a train, and even catch a boat. They're resourceful, to say the least. Even though some of their luck is purely accidental, they stick together and forge ahead to join the storks.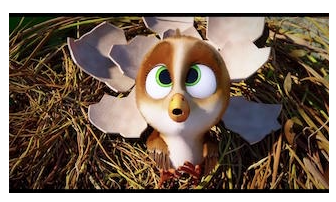 The story has some fun aspects, including Olga's imaginary friend Oleg and the integration of the Internet and Facebook. Getting "online" is easy for the birds. All they have to do is to sit on a live phone wire. Then they are on line, or online. "OMG." It's fun.
The bonus feature on the DVD is a behind the scenes look at creating the voices. The director along with Jane Lynch and Drake Bell discuss voicing the characters.
A Stork's Journey is rated PG for some mild peril. At many times little Richard's life is at risk, as well as his friends. But in the end they are fine and all's well that ends well.
About the Author
Francine Brokaw has been covering all aspects of the entertainment industry for over 20 years. She also writes about products and travel. She has been published in national and international newspapers and magazines as well as Internet websites. She has written her own book, Beyond the Red Carpet The World of Entertainment Journalists, from Sourced Media Books.
Follow her on Twitter