A Sneak Peek at Rio 2
Category:
Movies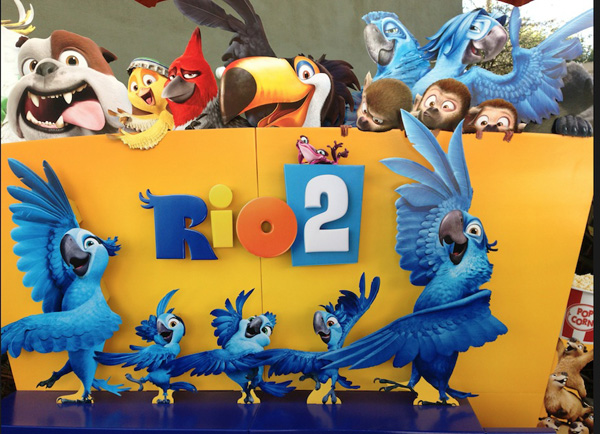 The 2011 animated movie Rio was nominated for an Academy Award for its music. When Rio 2 hits the theaters, there will be plenty more music and just as much fun when all the characters return, along with a few new ones, for some rollicking festivities in Brazil.
Rio and Jewel have three adorable little kids now, and they are fun and loving parents. It's been just the five of them for a while, with the exception of some friends of various species. But as far as Blue Macaws go, the only ones remaining are Rio, Jewel, and their three little ones. Then one day they hear that there might be more Blue Macaws in the jungle, so off they go to find their brethren.
What they find is more than just a few other Macaws. They find family. Jewel's father is the leader of the tribe that has been hiding in the jungle to escape humans. So their quest to find others of their species leads them straight to family and their roots.
Hot on their trail, however, is a vengeful Nigel, who harbors resentment towards Blu. He is bent on destroying him.
The story takes place in the New Year, and festivities are filling the atmosphere. Since it's Brazil, New Year is the summertime, so it's a happy and warm time of year for everyone. That is until trouble is stirred up and the Blue Macaws must fight the Red Macaws. (You'll have to see the film for all the details)
Director Carlos Saldanha told me, after the first film he "still had a lot of stories to tell" with these characters. As with the first film, "music is an intricate part of the culture and the movie. It's a different kind of musical." And it's a "multicultural" cast.
Saldanha emphasized, "The theme is family."
Rio 2 opens in theaters April 11, 2014. It stars the voice talents of Jesse Eisenberg (Blu), Anne Hathaway (Jewel), Bruno Mars, Leslie Mann, Jamie Foxx, John Leguizamo, Kristin Chenoweth, Jermaine Clement, Andy Garcia, Rita Moreno, Tracy Morgan, George Lopez, Amanda Stenberg, and many more. From the sneak peek I got, I think this is going to be a popular little family film for everyone.
About the Author
Francine Brokaw has been covering all aspects of the entertainment business for 20 years. She also writes about technology and has been a travel writer for the past 12 years. She has been published in national and international newspapers and magazines as well as Internet websites. She has written her own book, Beyond the Red Carpet: The World of Entertainment Journalists, from Sourced Media Books.
Follow her on Twitter
Like her on Facebook