'A Royal Night Out' - Movie Review
Category:
Movies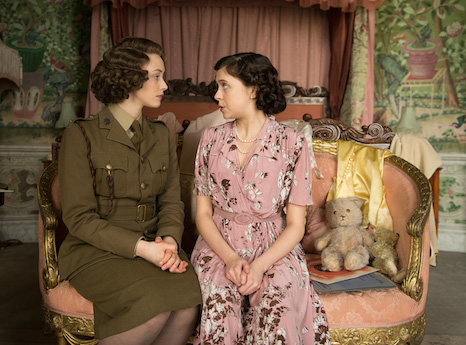 It is V-E night, May 8, 1945. Princess Elizabeth (19) and Princess Margaret (14) are eager to celebrate with the rest of London. But they are the heirs to the British crown. How can they simply go out on the town like common girls? It doesn't matter how they got out, but in truth, the two girls did leave the palace and spend some time with the revelers in London. That part is true. A Royal Night Out is a story about the two princesses' night of celebrating. While the fact that they really were able to spend the celebration with the "common" people, this film looks at one scenario that could have happened.
Director Julian Jarrold says, "It's a true story by which everybody is intrigued. But we don't know exactly what happened. [The movie is] a little fantasy inspired by that true story. It's also a romantic comedy adventure about an odd couple, Jack is a working–class guy and Elizabeth is a princess. They are thrown together by chance and have to make their way through London on this crazy, unbelievable night."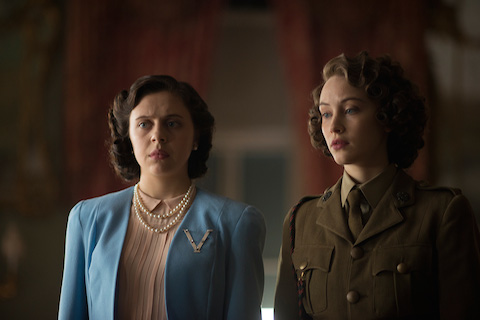 Margaret is young and naïve. She is also a fun-loving girl who has no idea what lurks on the other side of the palace walls. All she wants to do is go dancing and celebrate. Elizabeth, on the other hand, is eager to go out but also knows her role and how to behave, something completely foreign to her sister.
The Queen has seen to it that the girls have military chaperones, however it's not long before the men "misplace" the princesses who are by now well on their way to experiencing this wild night full of merriment and patriotism.
Margaret goes on a wild tour of London and gets involved with some not-so-savory types. Elizabeth follows after her, trying to find her sister. Along the way she meets an airman who helps her. Jack has no idea "Lizzy" is the princess. Together they have an amazing time as they traipse around London looking for Margaret who has gotten herself involved with, of all people, some ladies of the night.
While Jack is accompanying Lizzy, she learns a lot about this man. They form an alliance that lasts the entire night and well into the next day. Once the princesses return to Buckingham Palace, Jack enjoys breakfast with the royal family. And Lizzy, aka Princess Elizabeth, takes on one last duty to the military. She escorts Jack back to his squadron. Their fabulous night together will ever remain a secret.
With Queen Elizabeth as she is today, it might be difficult for people to imagine – or remember – her as a teenager. Originally she was not destined to be the queen. Her uncle was the King. Well, we know the story of that debacle. So, Elizabeth's father inherited the throne and therefore Elizabeth became the next in line. Once entrenched in Buckingham Palace, Elizabeth and her sister Margaret had their fates sealed. But on this one night they managed to experience the jubilance of the end of the war with their countrymen and countrywomen. That was a treat for the girls.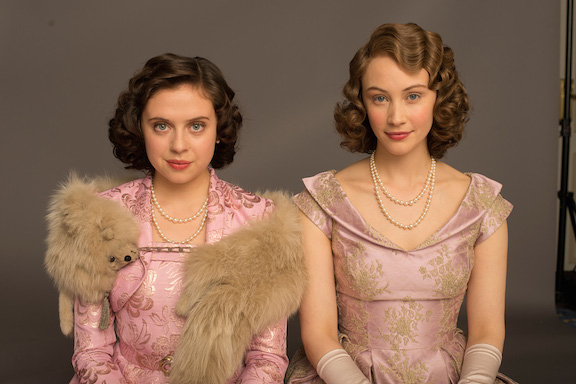 This movie is a fun bit of fantasy involving two women of history. The night World War II ended in Europe, the entire country and world celebrated. Things were about to change. Their lives would get back to normal. No more bombings or blitzes. This night, however, was still a reminder of what they had all experienced together.
Elizabeth and Jack (Sarah Gadon and Jack Reynor) are fun to watch. Margaret (Bel Powley) shows her exuberance for life and excitement. The queen and king (Emily Watson and Rupert Everett) are steadfastly aware of their duties but also that their daughters are young and excited. The casting is well done and the story is whimsical. While no one knows what really happened that night, this is one way to think about the excursions of the two princesses.
For more information, please visit the official A Royal Night Out website.
A Royal Night Out is rated PG-13 for some sexual content and brief drug elements. It opens December 4, 2015
About the Author
Francine Brokaw has been covering all aspects of the entertainment industry for 20 years. She also writes about products and travel. She has been published in national and international newspapers and magazines as well as Internet websites. She has written her own book, Beyond the Red Carpet The World of Entertainment Journalists, from Sourced Media Books.
Follow her on Twitter