'A Patch of Fog'
Category:
Blu-ray's and DVD's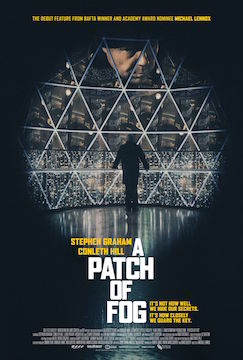 A Patch of Fog takes place in Northern Ireland and centers on two characters. First, there is Sandy Duffy (Conleth Hill), a best-selling author/TV host/college professor, and second there is Robert (Stephen Graham), a security guard at a local store. These two have nothing in common however their lives will be inextricably linked forever after their first encounter.
Both of these men are flawed. Sandy is hiding a secret from the world. Actually, he is hiding several secrets. To make him feel better about his life he steals. He doesn't steal big things. He just pockets an item once in awhile without paying for it.
Robert is a lonely man. He lives with his pet snake and desperately wants a friend. When he catches Sandy stealing from the store, he takes him to his office. Before calling the police Sandy begs Robert not to turn him in. His reputation will be ruined. He even offers a financial bribe. But Robert doesn't accept the money. Instead he tells Sandy he won't turn him in if he buys him a coke after work. Well, that sounds great to Sandy. He gets off the hook with one coke.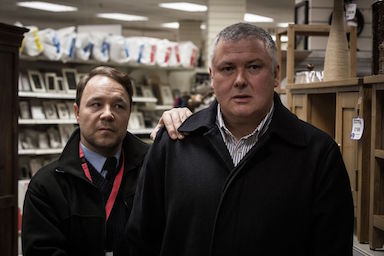 But that isn't the end. Little by little Robert keeps blackmailing Sandy into doing things together. He wheedles himself into Sandy's life and soon they are always together. But enough is enough for Sandy. He wants the evidence of his thievery but Robert insists it is safe. This cat-and-mouse story has several twists as the two men continue their "friendship."
While Robert is a lonely man, he has some good qualities. He is loyal. His loyalty to Sandy is something that cannot be shattered, as viewers will see. He simply wants to be friends with this man.
Sandy has several layers and one by one Robert manages to peel them off. Soon all his secrets are bare but that doesn't stop Robert from wanting to be his best buddy. On the contrary. Robert sees himself as a help to Sandy rather than a burden. But Sandy sees him more as a burden.
As they wind their ways through this maze viewers will most likely take sides. Which one is the sanest?
This is a cleverly written thriller. It brings the viewer right into the story from the opening scene.
A Patch of Fog will be released on VOD and iTunes January 24th.
Check out the trailer below
About the Author
Francine Brokaw has been covering all aspects of the entertainment industry for over 20 years. She also writes about products and travel. She has been published in national and international newspapers and magazines as well as Internet websites. She has written her own book, Beyond the Red Carpet The World of Entertainment Journalists, from Sourced Media Books.
Follow her on Twitter