'A Mighty Wind' Blows onto Blu-ray
Category:
Blu-ray's and DVD's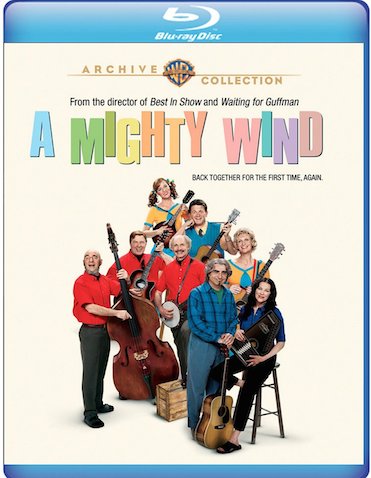 Christopher Guest and ensemble do it again. Their crazy antics the witty dialogue and a whacky story combine to make A Mighty Wind a musical and comical experience. If you loved Best in Show (2000) and Waiting for Guffman (1996), you'll love A Mighty Wind.
Guest co-wrote this film with costar Eugene Levy. The story is a fun one. After the death of their former manager, a bunch of 1960's folk singers unite for a concert in his memory. First there is the former duo of Mitch and Mickey (Levy and Catherine O'Hara). They were once a couple but went through an ugly separation. Then there is the trio called The Folksmen (Guest, Michael McKean, and Harry Shearer). Finally there is a singing group combining former and new singers as The New Main Street Singers (John Michael Higgins, Jane Lynch, Parker Posey, and others). Add to this mix of musicians/singers many other characters (Bob Balaban, Jennifer Coolidge, Ed Begley Jr., Michael Hitchcock, Paul Dooley, Larry Miller, Don Lake, Jim Piddock, Deborah Theaker, and Fred Willard) and you have quite an amazing cast.
The backstories as well as the current stories of all involved in this concert are endearing, but then add the actual songs that they all sing and the fun of the film is instantly raised to new heights. These characters all take their music seriously and even though folk music is passé today, it was once a popular genre. Just think of Peter, Paul, and Mary. Folk music can be intense or simply whimsical.
Bonus features on this Blu-ray include some extra laugh-out-loud scenes and some looks back at the singers in their glory days. There is also the concert that these people put on in the memory of their former manager, which is the premise of the movie.
Yes, the stories are outrageous, but that is what Guest and company do best. They are masters of outrageous comedy and adlibbing. And each one of them can take on a completely different persona from their previous role and make it memorable. These are not only great actors, they are also fabulous comedians.
A Mighty Wind is a fun combination of characters as well as music. Who would have thought that this whacky ensemble could also provide viewers with songs they will sing over and over again? And yes, the CD soundtrack is also available. A Mighty Wind is now available on Blu-ray. This 2003 movie is part of the Warner Archive Collection and can be ordered at their website.
About the Author
Francine Brokaw has been covering all aspects of the entertainment industry for 20 years. She also writes about products and travel. She has been published in national and international newspapers and magazines as well as Internet websites. She has written her own book, Beyond the Red Carpet The World of Entertainment Journalists, from Sourced Media Books.
Follow her on Twitter