A Look at Some New Characters in Planes: Fire and Rescue
Category:
Movies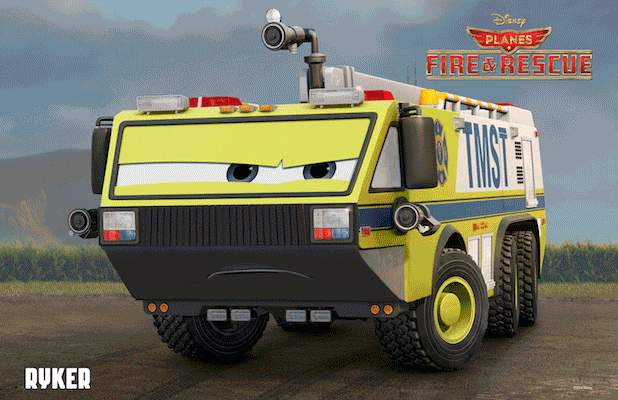 Disney's Cars and Disney's Planes were fun-filled and popular animated films. Cars (2006) and Cars 2 (2011) inspired imaginations in children everywhere with racecar Lightening McQueen and tow truck Mater. The film inspired Cars Land in Disney's California Adventure theme park. Guests to Cars Land feel as though they are stepping right into the movie. Last year Planes captured the fun of soaring above the ground. Coming to theaters this summer is Planes: Fire and Rescue, a film that will combine flying and driving characters.
When world-famous air racer Dusty Crophopper (voice of Dane Cook), the little crop duster turned racer that stole the hearts of viewers last year, returns to hometown Propwash Junction after another victorious racing season, the former crop duster revels in his new career success until a fateful training run changes his course with a career-ending injury.  Forced to shift gears, Dusty decides to train with the Aerial Fire Fighters at Piston Peak Air Attack Base as a Single Engine Air Tanker (SEAT). The heroic, often life-threatening efforts involved are admirable—but seemingly impossible to master—particularly if you're a crop duster-turned-racer with an injury that can't be ignored.
Here is a look at some of the ground crew in Planes: Fire and Rescue, coming to theaters July 18, 2014.
Park superintendent Cad Spinner (voice of John Michael Higgins) is a luxury Sport Utility Vehicle who's better suited for a country club than the country. Self-centered and passionate about profits, Cad diverts a big chunk of the firefighters' budget to his lodge restoration project. Though completely turned off by dirt, Cad's not opposed to playing dirty to get his way.
Maru (voice of Curtis Armstrong) is the mechanic tug at the Piston Peak Air Attack base. Friendly with a sarcastic sense of humor, he's been around a long time and has the cluttered hangar to prove it. With no budget for new parts, Maru's many shelves of old parts and machinery come in quite handy. The repurposing pro's motto? "It's better than new!"
Feisty old Mayday (voice of Hal Holbrook) has been Propwash Junction's fire and rescue truck for…ever. He's always rarin' to go, but he's lost a little speed over the years. Plus, his hoses are leaky and he can't see much without his glasses. Propwash Junction is growing fast thanks to resident-turn-big-time-racer Dusty, so Mayday might be in over his headlights.
Pulaski (voice of Patrick Warburton) is Piston Peak's structural engine, responsible for protecting the buildings and bridges in the park. With a 2000-gallon tank, he can pump water at 1000 gallons per minute, but protecting the renovated Grand Fusel Lodge—considered the largest log structure in the world—may prove impossible, even for Pulaski.
Ryker (voice of Kevin Richardson), a 17-year veteran of the Transportation Management Safety Team (TMST), not only lives by the book when it comes to airport accident investigations, he wrote the book.
A loyal and trustworthy tour bus at Piston Peak for 72 years, Ol' Jammer (voice of Barry Corbin) knows every trail, stream, rock and tree. This strong and seasoned bus with a gentle soul is eager to share his vast knowledge of the park's history with the multitude of admiring daily visitors.
*Source for Characters: Walt Disney Studios Publicity
About the Author
Francine Brokaw has been covering all aspects of the entertainment business for 20 years. She also writes about technology and has been a travel writer for the past 12 years. She has been published in national and international newspapers and magazines as well as internet websites. She has written her own book, Beyond the Red Carpet The World of Entertainment Journalists, from Sourced Media Books.
Follow her on Twitter
Like her on Facebook