'A Dogwalker's Christmas Tale' on UP
Category:
Television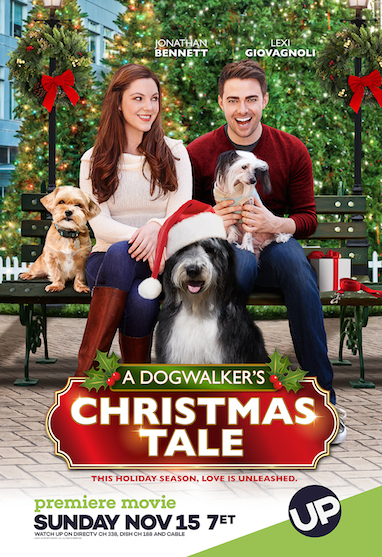 A Dogwalker's Christmas Tale is a light little film filled with Christmas spirit. Actually, it's Luce Lockhart who is filled with the Christmas spirit. And it is infectious.
Luce (Lexi Giovagnoli) is a rich, spoiled college student who never thinks about a price tag. She spends all her parents' money on gifts for her friends. She is generous and definitely exuberant about Christmas. Then her boyfriend of three months dumps her, telling her she has no substance. Luce retreats to her parents' home in the suburbs to lick her wounds and celebrate the holiday with family. The thing is, her parents have gone to Africa on a charity mission.
The neighbor hires Luce to walk their dog to earn a few extra dollars for the holiday. Luce, who has never had a job, decides it would be an interesting thing so she takes on the challenge. The neighbor, Missy Paxton (Dina Meyer) is the typical high-class woman with the perfect wardrobe and impeccable taste. Actually, that is also Luce. The two could be poster women for Rodeo Drive.
Luce meets a group of dog owners at the local dog park. They form a shaky friendship. Dean (Jonathan Bennett) is a vet student who is also taking care of a friend's dog. He is instantly attracted to Luce, but she doesn't have the same feelings. Then, when the word gets out that the Paxton development company is going to bulldoze the park and build a luxury day spa on the property, Dean thinks Luce can save the park. After all, her boss is Byron Paxton (Patrick Muldoon).
Luce really wants the spa. She loves massages and mani/pedis. But her friendship with the local dog owners puts her in a dilemma. She can either maintain her spoiled attitude or do something nice for others and the community.
Okay, so you know what she is going to do. After all, this is a happy Christmas story. The best part of the story, however, is the ending when Luce and the others realize who has the final say in the project.
Yes, this is a simplistic little movie, but isn't that what TV viewers want during the holiday season?
A Dogwalker's Christmas Tale premiers Sunday, November 15, 2015 on UP. It is now available to buy or rent on Digital HD and VOD.
About the Author
Francine Brokaw has been covering all aspects of the entertainment industry for 20 years. She also writes about products and travel. She has been published in national and international newspapers and magazines as well as Internet websites. She has written her own book, Beyond the Red Carpet The World of Entertainment Journalists, from Sourced Media Books.
Follow her on Twitter