'A Cowgirl's Story' on DVD
Category:
Blu-ray's and DVD's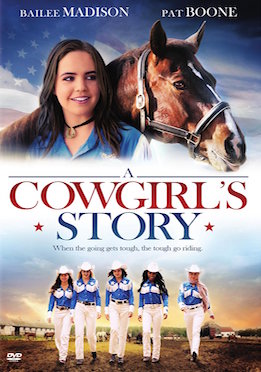 Bailee Madison not only stars in the movie A Cowgirl's Story, she is also a producer. This young actress has been nominated for several awards in her 17 years. She has starred in several TV movies and in many series. Lately, she can be seen as Grace in the Hallmark Channel's Good Witch.
Madison plays Dusty Rhodes (as she says her parents had an interesting sense of humor), whose mother is a helicopter pilot serving in Afghanistan and whose father is an Army Ranger. They move in with her grandfather (Pat Boone), a military chaplain. Yes, this is a story definitely slanted to Christianity. It is a story of hope, family, and friendship.
Dusty stands out in her new high school. She is a cowgirl in the middle of a suburban culture. But she won't conform. She is happy with the young woman she is and although in the beginning gets ridiculed for her appearance, she stands her ground.
She convinces her new classmates to form an equestrian drill team, which at first they do reluctantly. But in time even the snobbiest girls come to love riding horses and performing in rodeos.
Dusty's best friend is Savannah (Chloe Lukasiak), a young girl with plenty of personal problems. Her father was killed in Afghanistan and her mother is broke and basically worthless when it comes to taking care of the house and her daughter. Savannah confides a family secret to Dusty and together they work to solve the problem that has been a thorn in the side of Savannah and her mother ever since her father was killed in action.
In the meantime, Dusty's mother's helicopter is shot down and her whereabouts is unknown. The town comes together to support her in this time of turbulence, especially when her father is shipped overseas as well.
As always, Madison turns in a pleasant performance and is enjoyable to watch. Her fans will definitely love to see her in this role. And take it from me – someone who has met and talked with the actress on several occasions – she is just as adorable and sweet in person as she is on screen.
While this story has a religious subtext, it is also a story of confidence and resilience. Older viewers might think it is a little saccharine-infused, however under the surface it is a touching story of faith, family, and friendship. It is also a reminder that there is a war going on and Americans are fighting and dying for freedom and their country.
A Cowgirl's Story is rated PG for thematic elements.
About the Author
Francine Brokaw has been covering all aspects of the entertainment industry for over 20 years. She also writes about products and travel. She has been published in national and international newspapers and magazines as well as Internet websites. She has written her own book, Beyond the Red Carpet The World of Entertainment Journalists, from Sourced Media Books.
Follow her on Twitter