A Country Wedding on Hallmark Channel
Category:
Television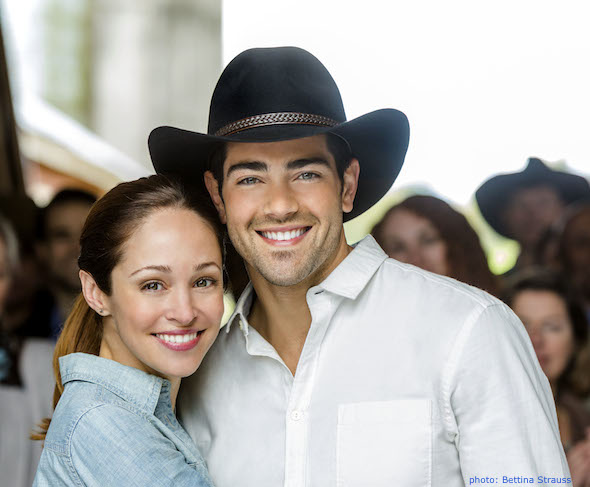 You are cordially invited to a hometown wedding on Hallmark Channel. But who is going to be the bride? "A Country Wedding" is a sweet tale of true love and finding what's important in life.
Bradley Suttons (Jesse Matcalfe) is a big country music star. Before he hit it big he came from a small Texas town where his family's roots are and where his childhood friends still reside. Bradley is currently engaged to Catherine Mann (Laura Mennell), a big movie star who is all about fame, fortune, and living the high life.
When Bradley returns to his home town to sell his family's house, he reconnects with his old friends, including next-door neighbor Sarah (Autumn Reeser) who, when they were thirteen years old, married each other in a pretend wedding. While Catherine is planning an elaborate wedding in an Italian villa, Bradley settles into the calm, quiet, laid-back life in his hometown. With Sarah to point out the benefits of this peaceful life, he comes to appreciate the country again and life away from the spotlight.
Sarah begins to fall in love with her old friend, and his feelings are mixed. On the one hand, he thinks he belongs with Catherine, but on the other hand he is pulled back to his roots and this small town. On the spur of the moment he decides to change their wedding plans and get married in a barn, to Catherine's chagrin. She is still in Los Angeles filming a movie but decides to go along with his whim and then have their lavish wedding in Italy after the country wedding.
Sarah helps her old friend with all the wedding preparations, and Bradley discovers he knows more about her than his own fiancé. Nevertheless, he is intent on marrying Catherine.
Okay, so you know where this is going. Don't you? Sure it's a predictable story. After all, what else would you want from a Hallmark Channel movie? That is what makes these movies enjoyable. They are simplistic but sweet and easy to watch. While they might not be filled with suspense, they are gratifying and sweet. And this one is no exception.
"A Country Wedding" is a nice way to spend a Saturday evening. The movie premiers June 27, 2015 on Hallmark Channel.
About the Author
Francine Brokaw has been covering all aspects of the entertainment business for 20 years. She also writes about technology and has been a travel writer for the past 12 years. She has been published in national and international newspapers and magazines as well as internet websites. She has written her own book, Beyond the Red Carpet The World of Entertainment Journalists, from Sourced Media Books.
Follow her on Twitter
Like her on Facebook