'A Common Struggle' by Patrick Kennedy and Stephen Fried – Book Review
Category:
Books and Music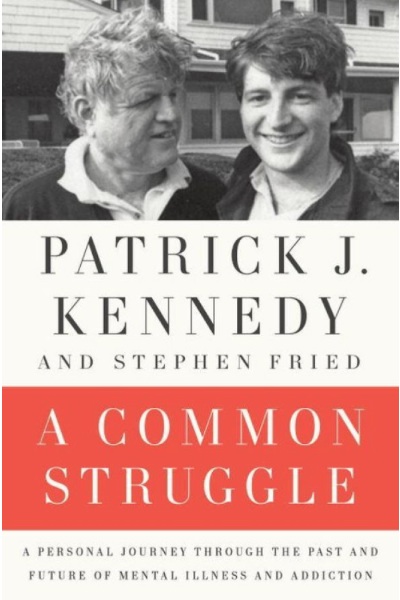 In his memoir, A Common Struggle, Patrick Kennedy describes his life with penetrating details. As a member of the Kennedy family, he was brought up to not tell family secrets to anyone. The entire family was cloaked in secrecy for generations. But with this book Patrick details his personal struggles with bipolar disorder and addiction and his work to get "parity" for those suffering with these diseases. Another of Patrick's goals is to de-stigmatize these diseases. He says they are no different than heart disease or cancer. They are brain diseases, mental illness.
The book is an eye-opener with every chapter. This man has been suffering from multiple diseases since childhood, yet the only one the family was willing to acknowledge publically was his asthma. After all, that was a known physical disease. But his addiction and bipolar depression was swept under the rug with the admonishment of "Snap out of it."
The alcoholism and drug addictions in his well-known family have prevailed for generations. Patrick had the misfortune of having inherited the tendency from both his mother and his father. He describes his mother's acknowledgement and fight against the disease and his father's lack of acknowledgement of his own problems.
Patrick Kennedy was in and out of rehab and treatment facilities and describes these experiences as well as his emotional confrontations with himself. Anyone who has followed his family and/or his political life has undoubtedly, at one time or another, thought he was a real obnoxious fellow. Truth be told, I certainly did over the years. But after reading this book, I have come to understand his emotional bursts and attitudes that came out in the public. Patrick even acknowledges he was obnoxious at times during his life before he got his diseases under control.
Christopher Lawford, Patrick's cousin, has dedicated much of his life to addiction and recovery advocacy, having gone through the horrors and processes. He told his cousin, "I have never seen a case worse than you, Patrick." While reading chapter after chapter, all the struggles and self-doubt unfold in an interesting, educational, and even entertaining way. I say entertaining because at times it is unbelievable what happened in his life and how he got through it alive.
The book is honest. He even goes so far as to list all the medications he was taking and describe the different meds that are on the market and their effects. He also writes about different approaches to dealing with addiction and mental illness and his own experiences with the many tactics he underwent, as well as the various treatment facilities he checked himself into…and out of.
Something that is brought over and over again is the work "parity." Patrick is working to get brain diseases equal to other diseases when it comes to insurance, doctor's treatments, and stigma. No one should feel differently saying they have a brain disorder than saying they have MS. A disease is a disease and this concept is what he is working for.
Kennedy is also working to get better diagnoses, understanding, and treatment for brain diseases, which includes depression and bipolar depression. Regular medical exams should include a "check up from the neck up," as he says.
This is an amazing book that, at times, might be a bit mired in details involving legislation, but is, nevertheless, eye opening and informative. It is a comprehensive look at the man, his experiences, his political life, his addiction, his bipolar depression, his anxiety, his family struggles, and his new post Congressional life as a husband, father, and advocate for advancement in the study and treatment of mental illnesses and addiction. This is definitely a page-turner and is written in a way that brings readers right into the depths of his life and struggles.
A Common Struggle by Patrick J. Kennedy and Stephen Fried
Hardcover: 432 pages
Publisher: Blue Rider Press; First Edition edition (October 5, 2015)
ISBN-10: 0399173323
ISBN-13: 978-0399173325
About the Author
Francine Brokaw has been covering all aspects of the entertainment industry for 20 years. She also writes about products and travel. She has been published in national and international newspapers and magazines as well as Internet websites. She has written her own book, Beyond the Red Carpet The World of Entertainment Journalists, from Sourced Media Books.
Follow her on Twitter