A Belle for Christmas DVD
Category:
Blu-ray's and DVD's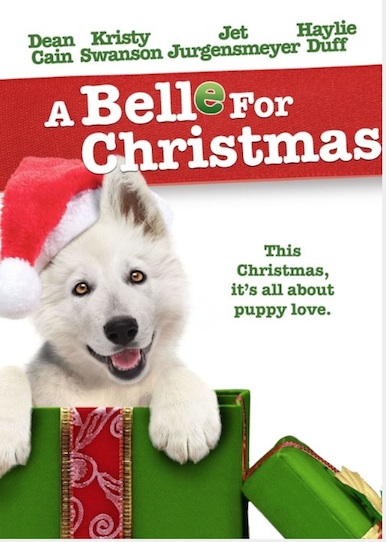 Dean Cain stars in this frolicking family tale as Glenn Barrows, a widower raising two young kids. Elliot (Jet Jurgensmeyer) and Phoebe (Meyrick Murphy) are good kids that see through the phoniness of Glenn's new girlfriend Dani (Kristy Swanson). You could say, "all belle breaks loose" in A Belle for Christmas.
Dani is trying her best to snare Glenn. She is an evil, conniving snob who sees him as an eligible and wealthy attorney that could raise her standing and her lifestyle.
This happens to be the kid's first Christmas without their mother and although they put up a brave front, deep down they miss her tremendously. Adding to the heartbreak is Dani who has wangled her way into their lives and managed an invitation to spend the holidays at their house.
Then the family adopts "a fuzzy bit of cuteness." Elliot names their new puppy Belle and everyone is excited by the new addition except for Dani who is allergic to dogs. When she sees a way to secretly get rid of the pooch, she takes it. While everyone is out looking for the lost dog, Dani's evil scheme backfires.
Haylie Duff plays Kate, the head of the animal rescue shelter, and Connor Berry plays Malcolm, Elliot's witty and resourceful friend.
The story is endearing and good wins out over evil in this fun holiday tale. Or should I say fun holiday tail?
Belle is a bundle of love. Just be prepared for your kids to ask for a puppy after seeing this film. Who could resist that cute little face and those floppy little ears?
A Belle for Christmas is rated PG for mild thematic material and rude humor.
About the Author
Francine Brokaw has been covering all aspects of the entertainment business for 20 years. She also writes about technology and has been a travel writer for the past 12 years. She has been published in national and international newspapers and magazines as well as internet websites. She has written her own book, Beyond the Red Carpet The World of Entertainment Journalists, from Sourced Media Books.
Follow her on Twitter
Like her on Facebook